Spring is here and the weather is FINALLY warming up! With that I know we all want to be our most healthy selves. I want to share 7 things to do to be healthy this spring that are easy, fun, and things we should all do all year round.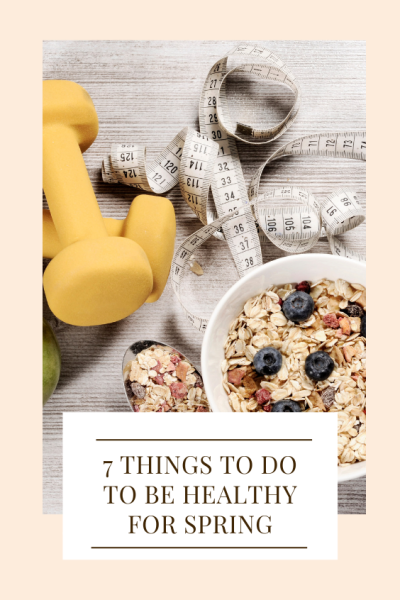 7 Things To Do To Be Healthy For Spring
Go on walks: I try to go for a walk outside every day. It's truly amazing what warm weather and endorphins will do for you. My moods are 10X better when I go for walks than when I don't.
Grow your own veggies: Andrew did a huge veggie garden a few years ago at our last house and we had SO MANY fresh veggies all spring and summer! Nothing better than eating food right from your own garden.
Drink more water: This is an all the time thing but especially as the weather gets warmer. If I don't drink enough water I get horrible migraines. I try really hard to drink two full Stanley's a day.
Make smoothies: I love to make fresh smoothies for the four of us every day. We do greens, carrots, and a variety of fruits. In the summer I blend them and then freeze them into popsicle molds for the kids. A sneaky way to get those fruits and veggies in.
Have picnics with your kids: Packing your own picnic you are more likely to pack healthier whole foods rather than just picking food up from somewhere. Plus you are spending time outside as a family.
Sit outside and read: The fresh air, the lack of screens, plus reading something is a win all around.
Try something new: Maybe a new workout class, a new healthy restaurant, or visiting a new fun area of your town! Getting out of your comfort zone is VERY healthy!
What is something healthy you want to do this spring?