A media kit is a must have for bloggers looking to work with brands. I can remember the first time I heard of a media kit it seemed so stressful to think about coming up with one. I had no idea what to include in it and how to make it. If you are in the same boat, this post may be just for you! I am here to tell you the 7 things to include in your media kit that you MUST have!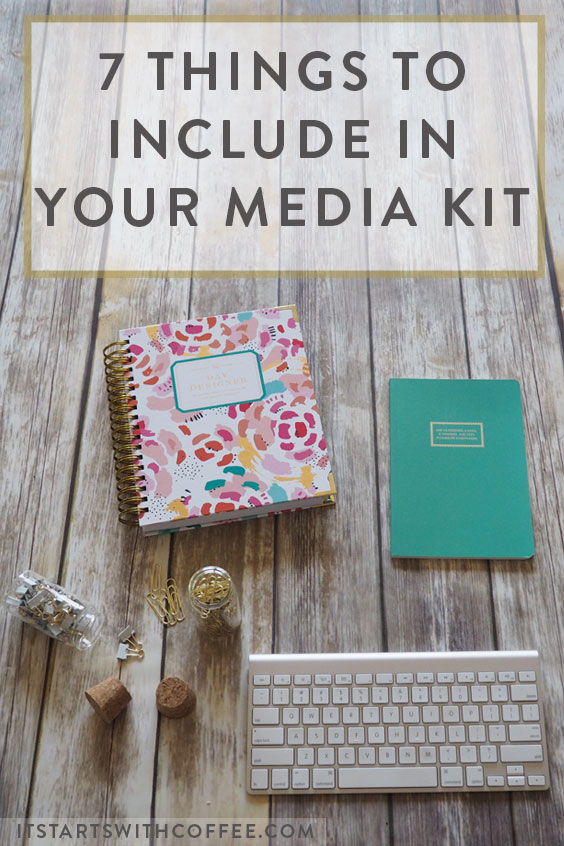 7 Things To Include In Your Media Kit
Email: Do not and I repeat DO NOT forget to put the best contact email for you in your media kit. I have mine at the top and bottom of my media kit. I also have it all over my blog which I have mentioned before is super important.
Social Media Handles: They need to know where and how to find you online. If like me all of your handles are the same put the name next to the symbol. Otherwise just list them out! But make sure that brands can find you.
Stats Overview: How many page views, unique page views, bounce rate, engagement rate on social media, etc. Include your stats. I also think it's important to include how many social media followers and email subscribers you have. Just give them as much information about your blog and social media statistics as you can.
A Bit About You: I think it's important to include a blurb about yourself. Who are you? Why should they work with you? What sets you apart? What do you blog about? These are things brands want to know. It is also helpful to have a photo of yourself in the media kit so they can put a face with a name.
Your Audience: Who is your audience? Moms? Millennials? Newlyweds? College students? What are their ages? Income? etc? These are also things brands want to know. They need to know that their brand aligns with your audience. So make sure you include as much information about your audience as you can.
[ctt title="What should you include in a media kit?" tweet="Trying to decide what to include in your media kit? Check out this post by @Neelykins https://ctt.ec/4GY59+" coverup="4GY59″]
Brands You've Worked With: You don't have to list every single brand you've worked with, but list as many as you want. Did you do a big campaign for them? Are you a brand ambassador long term? List these things!
Popular Posts: It's helpful to include 3-5 of your most popular posts. I would try to make these posts as different as you can to show different ways you write, and topics you write about. Brands want to see what you can do! I would include both sponsored and non-sponsored posts.
I hope you found it helpful to learn some of the things to include in your media kit!
If you enjoyed this post, I would love if you saved/heart it on Bloglovin' and check out my other blog advice posts!