I am a girl who loves her wine. Over the years my wine tastes have for sure changed. After having Liam 4 years ago the wine I liked before just did not taste good anymore. But, I am also someone on a budget, and having a glass of wine every night or other night doesn't really work well if you're buying super pricey wines. So I wanted to share 8 delicious white wines under $20 for those like me who aren't big red wine drinkers but love a glass of white! Also please keep in mind I am not an expert. These are just the wines I love!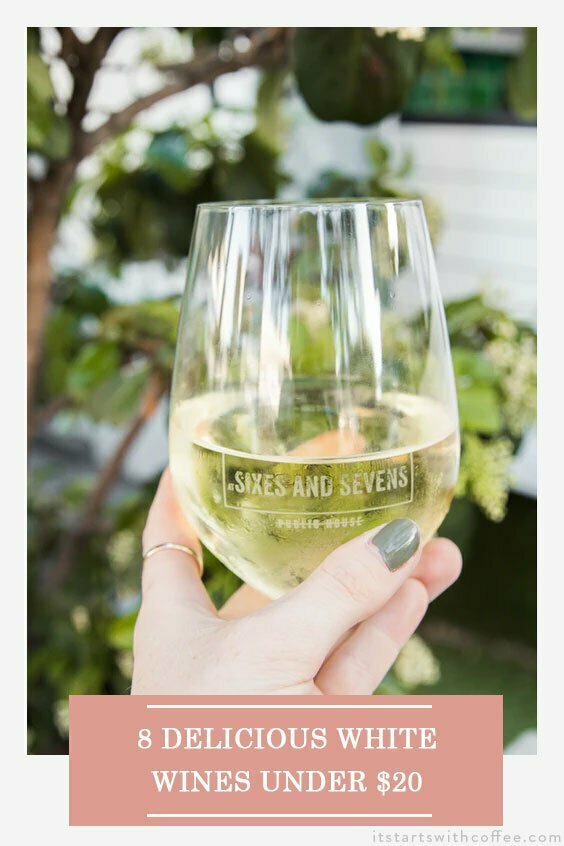 8 Delicious White Wines Under $20
Apothic White Blend: One of my favorite blends. This is one I found out about nearly 10 years ago. It's extremely budget-friendly at around $10 a bottle but tastes a lot more expensive to me.
Infamous Goose Sauvignon Blanc: This is my current go-to. I am not even sure how I found it, probably wandering the Sauv Blanc aisle at our wine store but at $14 a bottle it's a win!
Outer Sounds Sauvignon Blanc: This is one we got in a Winc box a few years ago and both really liked it. It has more of a dry taste to it but it's delicious.
Field Theory Albarino: This is one of the more pricey wines on this list at around $18 a bottle. It's a dry blend that we love. I consider this our fancy wine haha.
Oyster Bay Sauvignon Blanc: This is one of Andrew's favorite and I do like it too. It's way budget-friendly and can be found at most grocery stores. It's only $10 a bottle and it's great quality.
Kim Crawford Sauvignon Blanc: This is on nearly every menu at restaurants we go to (when we go to restaurants which is never right now). It's delicious and a great budget-friendly wine.
Conundrum White Blend: Definitely our favorite blend! Another one we got from Winc a few years ago and continue to buy. I feel like this is a great option to bring to a dinner or give as a hostess gift. It's pretty all-around pleasing to people.
Kung Fu Girl Reisling: If you do like the sweeter white wine the Reisling I used to always buy is Kung Fu Girl. It's really yummy and sweet but not something I can drink much of now. It's VERY budget-friendly at $9 a bottle.
Are you a white or red wine drinker? Let me know below!