This is a sponsored post written by me on behalf of Lisa Bridge Collection exclusively at Ben Bridge Jeweler. All opinions are 100% mine.
Being pregnant is truly a beautiful experience, but sometimes I just don't feel all that glamorous. Accessorizing the bump is tough! Recently, I got the opportunity to work with the Lisa Bridge Collection exclusively at Ben Bridge Jeweler to pick out some amazing pieces to style. This was a no brainer for me, because I have had the hardest time feeling pretty lately. I think it's the combination of 90 degree weather, that awkward middle part of pregnancy where people look at you in some clothes and wonder if you're pregnant or just putting on weight, and also just trying to really love this stage that my body is in.
I found several cute dresses this summer at Target that are perfect for summer, transition into fall and that I could really wear throughout my pregnancy. But they are all pretty plain, so they need a little something added to them to really bring out their potential. I think the key for me is finding simple pieces that can be dressed up with accessories to accessorize the bump instead of looking for trendy maternity pieces.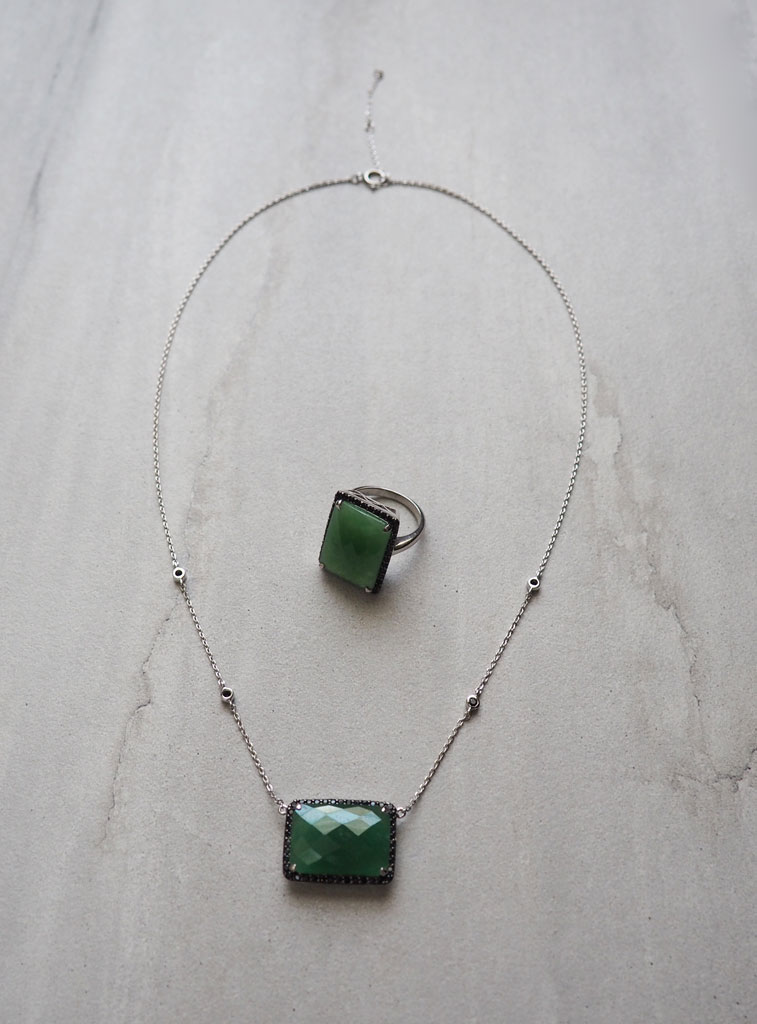 I am always wearing this burgundy dress with a bit of a fun detailed top portion of the dress. It's comfy, and it's cute but it needed a little something to make it feel a little fancier! For this outfit I decided to add a pop of Emerald. The Chalcedony & Black Sapphire Cocktail Ring and Chalcedony & Black Sapphire Necklace were absolutely perfect for a date night look. What I love about both of these pieces, aside from their prices being very reasonable, is that they would work with SO MANY OUTFITS. I can already see pairing these with jeans or leggings and a white sweater. They would be great for holiday photo looks and perfect for work or for date night looks. I love jewelry that can work for so many occasions. I think it's important to treat yourself to a nice piece of jewelry every now and then, and these are great choices for that! The pieces are real and authentic and really great quality. I have always had a thing for cocktail rings, and this may just be my favorite. Plus, any necklace that pops like this is a win!
As someone who spends most of her time in workout looks and working from the comfort of my kitchen table or couch, putting on a fancier outfit really makes me feel great. I love that these pieces from the Lisa Bridge Collection exclusively at Ben Bridge are just that. They really make an outfit pop and make you excited to get dressed up. Accessorizing the bump has really never been more fun!
I would love to know how you love to accessorize?