I will start this by saying it makes me feel so weird to make a birthday wish list at 37. But, people seem to really like them, and looking at analytics they are one of my most popular posts so here we are. I will also say it was REALLY hard to come up with a wish list. I don't really need anything. But there are definitely things I would not mind having! I still have a few weeks as my birthday is not until April 3rd but I am pretty sure this is what's on my birthday wish list.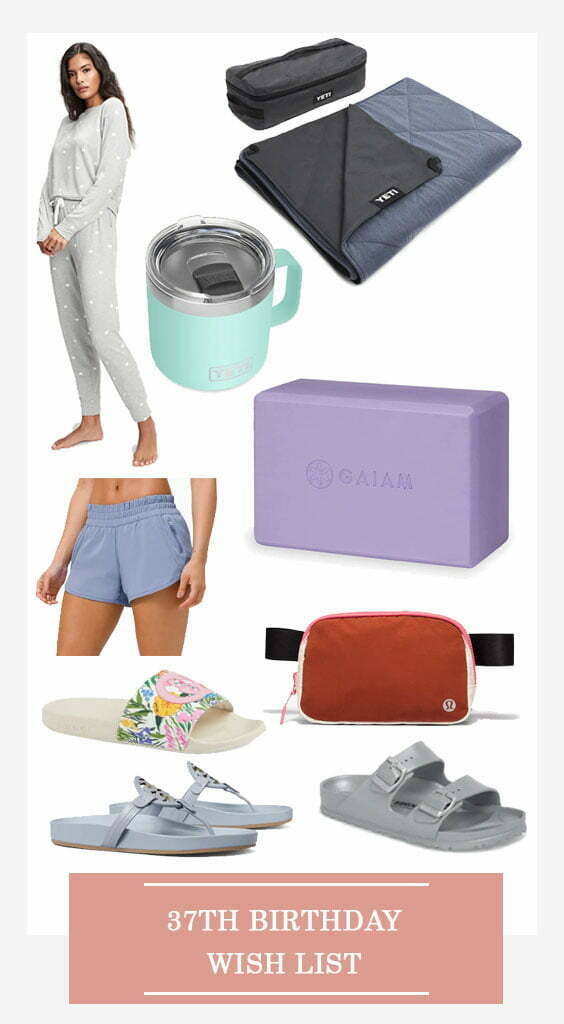 37th Birthday Wish List
First and foremost a Peloton! This is actually something we have talked about a lot but are torn between this and an elliptical. We had an elliptical before we moved but we ended up leaving it at our old house for our buyers because we did not have space for it when we first moved. It was also HUGE so we are hoping to get something more compact. We would love to get something we can both use and enjoy as well.
I stopped going to Starbucks daily in February. I know I know cue the shock. But I got a Nespresso and I love it! My favorite mugs to drink out of are the Yeti rambler mugs so I would LOVE another one. Either a white or light pink.
This is a major splurge but I would really love the Yeti blanket for outdoors. I think it would be great for picnics, park days, and general outside time with the kids.
I definitely don't need any lounge clothes but I really love these Gap joggers and they would be great in the spring.
I also don't NEED another Lululemon belt bag but I love this color combo.
There are three pairs of shoes I am eyeing and they all range in price. I have these Birkenstocks in white and wore them all last summer especially outside with the kids. I would love a fun color like pink or purple. I have this pair of Tory Burch sandals in a white and brown pattern but I would LOVE the grayish blue color. These Gucci slides are so unnecessary in my life but goodness they are fun!
One thing I do actually need is more athletic shorts for Spring so I would love a few pairs of my favorite Lululemon shorts.
I am wanting to do a lot more at-home Yoga so I need to snag a Yoga block asap!
I am obsessed with these blush pink stemless wine glasses! I feel like they are such a treat.
I want to reiterate that I really don't NEED anything! I feel pretty blessed in life right now.
What is something you have on your wish list right now?