If you read my previous cruise post you know that Andrew and I just got back a few weeks ago from a glorious week long cruise through the Eastern Caribbean. We had three days where we were in different ports, which I will go into detail about in an upcoming post, but we also had three full days and one partial day where we were at sea. What does this mean? This means you are on the boat all day because you are sailing to your next port. Being our first cruise, we did not know what to expect even with the hours of research we (mostly Andrew) did. But we knew we wanted to make the most of a day at sea when we had them.
I have some do's and don'ts to share with you, as well as some tips and tricks of things you should FOR SURE do and FOR SURE not do during your sea days.
Take Advantage of The Ship: You are given a gift of a magnificent ship. We were on the Regal Princess and the ship could not have been more amazing. The ship was huge and somewhat overwhelming the first few days just getting our bearings. There is so much to do though! You can go to the putting green, play shuffleboard, go to the gym, hit the spa, hang out in the Sanctuary, try one of the MANY restaurants, grab coffee, or just explore. Another fun thing to do is just lay by the pool. The biggest tip though is to go out to the pool super early and grab chairs and towels. Leave something like a book on the chair and then go have breakfast. You will thank me later! We did not do this the first day, but we wised up by the second at sea day so we had the perfect spots! Whatever you do, take advantage of the ship you are on!
Game Time: Not only is there an endless supply of board games (my happy place), and shuffleboard, putting, etc, but there is TRIVIA! Everything from celebrity faces or TV show and music trivia. Even if you aren't connected to the Internet you could still go to your browser and visit Regal.Princess.com and see the list of the days activities for free. There were usually several trivia times and they were SO MUCH FUN! I am a huge fan of trivia. It was fun to grab a drink and head to the trivia area and play along. Such a great activity when you've had a little too much sun. Not a fan of trivia or board games? Hit up the Casino! We went a few times and just had a blast. I am not much of a gambler, but had fun playing roulette and slots. It's also fun to watch people who get super intense. We saw a guy win $5,000 from a slot machine while we were in there. Lucky!
Not on Port Days: On port days you want to get off the boat and have as much time at the port as possible. Then you get back, shower, and go to dinner usually, so there are just certain things you do NOT want to do on port days if you want to make the most of each port. One of those things is checking out the professional photos. There are formal nights, casual nights, and then the port photos that are taken everyday. They are free to take and then you can buy the ones you like if you want. We bought 7!!! At sea days are a perfect time to go to the photo area of your ship and check out these photos. Another great thing to do is try a new restaurant. Be it lunch or dinner there is no shortage of places to eat. By the pool there is a grill for burgers, hot dogs, etc and a pizza place. There was also an ice cream shop if you need errr want some ice cream. There is the buffet which always has TONS of great food options. We actually ate at the buffet for breakfast every single morning. The coffee barista knew my order after day 2. The buffet also has excellent lunch and dinner options. Such a great variety of food that anyone can find something they like. Then there are restaurants like Italian, Sushi, Steak, Sandwiches, and more. Trust me, you do not go hungry on a cruise!
Have Some Downtime: Port days were exhausting, but in a great way. We took such great advantage of every single port, trying new things and exploring that we were wiped by the time we got back. I think, according to my app, I walked an average of 14K steps each port day. So the days at sea were great to just have downtime. A few of our favorite things were watching a movie in the room. There is an insane on demand selection of movies. We watch Entourage, Trainwreck, and the Imitation Game to name a few. I also watched The Fault In Our Stars while Andrew was napping one day. I would also sit on our balcony and read a lot. Usually in the late afternoon once the sun started to go down I would take a coffee or drink out to the balcony and curl up in a chair and read. Hands down this was one of my favorite times. Another great way to relax is by going to the Spa or the Sanctuary. The Sanctuary is this wonderful outdoor area with the most comfortable lounge chairs, waiters to bring you food and drinks and quiet. Ahhhh quiet. The spa was also AMAZING! One of our at sea days we had a couples massage that was like a dream. We both loved it and loved enjoying the other spa areas as well. If you are hanging in your room for a movie I highly suggest ordering either a PB&J sandwich or chocolate chip cookies. THE BEST! Downtime is great especially if you are taking advantages of the ways the ship can offer you downtime.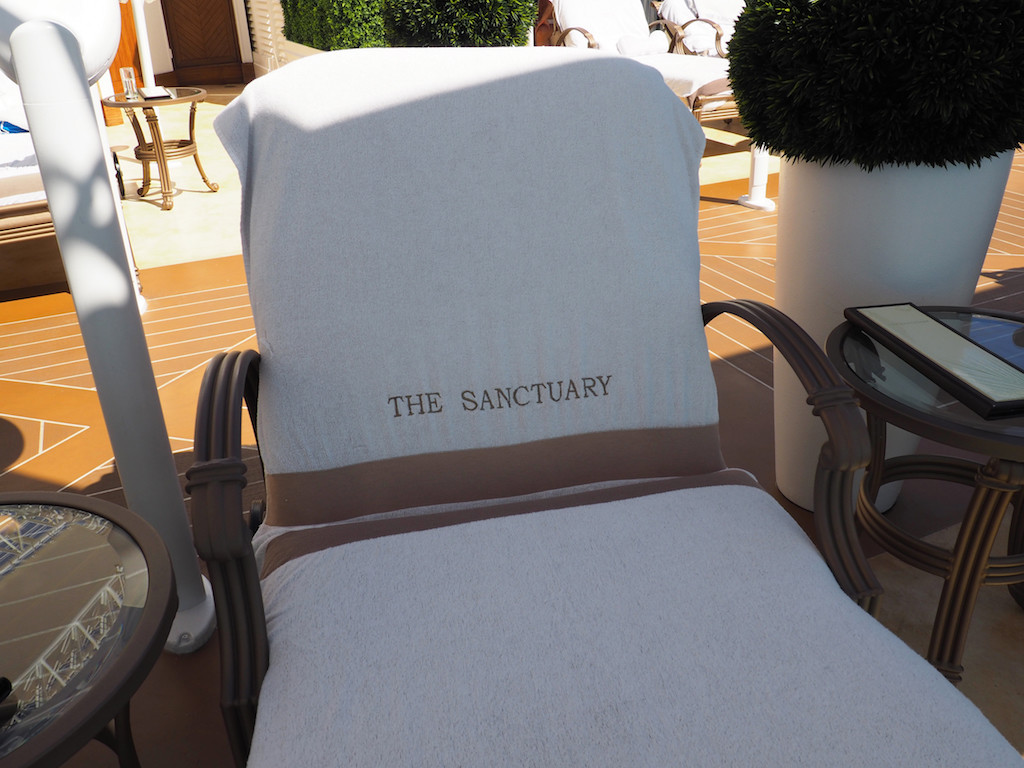 Want to know how to make the most of a day at sea day? My biggest point here is to NOT spend your at sea days sleeping till noon, ordering room service only, and not taking advantage of everything the ship has to offer. You are on a cruise! Live it up!
Fore more cruise life posts see:
What a cruise taught me about marriage
This is a sponsored post in partnership with Princess Cruises. As always all thoughts and opinions are my own. Thank you for supporting the brands that support It Starts With Coffee.