December is here and that means 2017 is wrapping up! Time to share one last goals post for the month. Before I get into my December Goals let's take a look at November.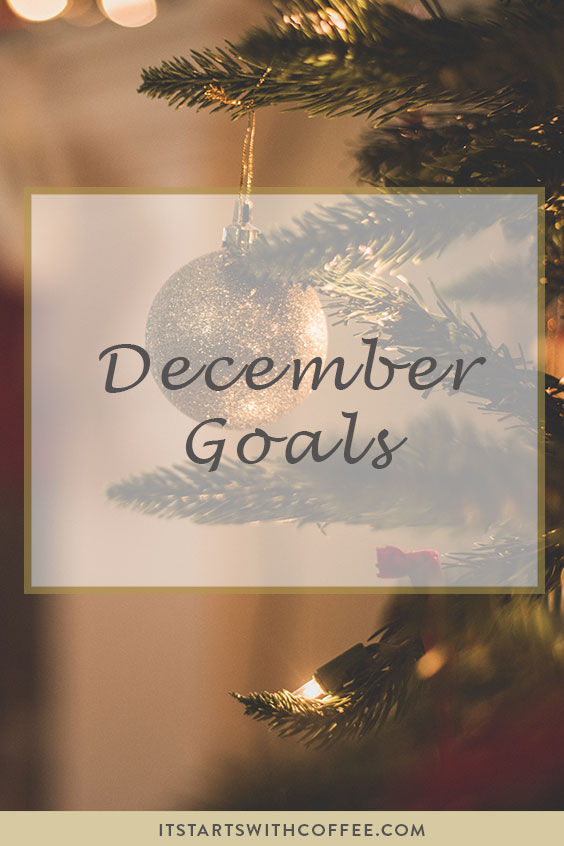 In November I wanted to…
Read 3 books: I read 2 but it seems like a big accomplishment because it was a really busy month.
Decorate for the holidays: We did!! It was really fun and Liam is in awe of the tree.
Have two date nights with Andrew: Liam got sick one one of our date nights but we managed to have one date out with friends. It was really fun!
Start Christmas shopping: Completely done with Liam, started on Andrew and my parents, and done with my sweet niece.
Enjoy Liam's first Thanksgiving and take a family photo: Check and check! I am awful about remembering to take photos on holidays but this year we did!
Get holiday cards ordered and mailed by Thanksgiving: Ordered yep, mailed yep!
Work on Twitter growth: Working on it!
Continue to be better about water: Not going well but I am really trying.
Try one new workout class: Yes I tried a barbell strength class and loved it!
Finish blog posts for November and get most of December scheduled: I have a lot of December done but not all.
Enjoy more family time: Yes we had LOTS of family time this month. Liam got to see both sides of his family, so nice.
In December I want to…
Read 3 books
Do something really special for Liam's first Christmas
Organize Liam's clothes and vacuum seal stuff he's grown out of
Adopt a family for the holidays (we do every year)
Try to enjoy the holidays without eating too many sweets
Try a new yoga class
Start daily meditations
Work on Twitter growth more
Work on my first quarter content calendar
Work harder on drinking 80 oz of water a day
What are your December goals? Anything big you want to accomplish this month?