Happy November! What?! Yes NOVEMBER! Meaning we have 2 full months left in this year. Nuts. I hope everyone had a great October. We did! It's finally feeling more like fall, and I'm thrilled about it. Time to share my November Goals and share what all I did in October!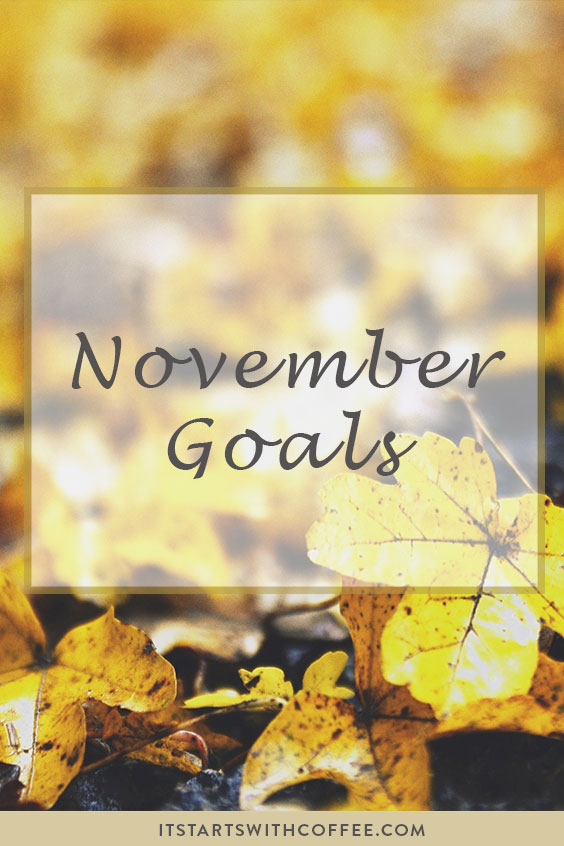 November Goals
In October I wanted to…
Read 4 books: I read 2 but better than nothing!
Enjoy Halloween with Liam and Andrew: His first Halloween was great! It rained so we only went to a couple of houses, BUT he looked cute in his costume and we got some great pics!
Take Liam to a pumpkin patch and the Arboretum: We went pumpkin shopping and we went to the pumpkin village/pumpkin patch at the Arboretum.
Keep up with workouts: Yes loved all my workouts this month.
Really focus on drinking more water: Getting better but not as much as I want.
Work on Twitter growth: I did but not as much as I wanted.
Get blog posts written and scheduled for November: About half way.
Spend some time with my mom: Yes! It was lovely.
Have 2 date nights with Andrew (it's our wedding anniversary this month!) We did! We found two amazing babysitters and we love having them!
In November I want to…
Read 3 books
Decorate for the holidays
Have two date nights with Andrew
Start Christmas shopping
Enjoy Liam's first Thanksgiving and take a family photo
Get holiday cards ordered and mailed by Thanksgiving
Work on Twitter growth
Continue to be better about water
Try one new workout class
Finish blog posts for November and get most of December scheduled
Enjoy more family time
What are some of your goals for this month?