I am such a snacker. I especially have a weakness for salty foods! I try to go towards easy healthy snacks because I know I will snack so why not make them healthy?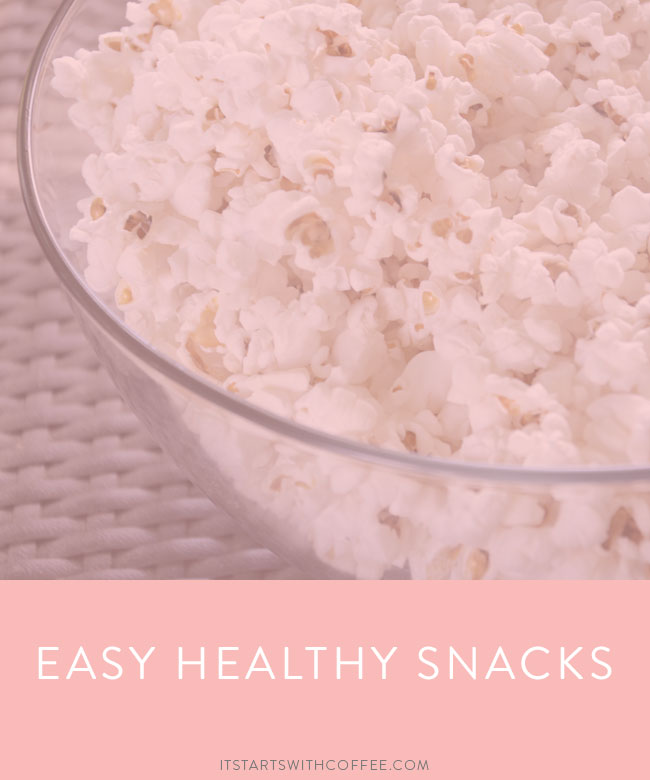 A few of my favorite easy healthy snacks are:
Black Bean Hummus and Veggies/Flax Chips: I may have an addiction to hummus. I will legit eat an entire container if you let me and that's not very healthy. But if I portion it (the way you should) and plate it with some veggies and flax chips it's soooo good. Plus bonus, use the flax chips and hummus and light cheese for healthy nachos!
Popcorn: We love Smart Pop kettle corn. It is always in our house and they come in 100 calorie packs which makes it super easy. One of our favorite things is sharing a bowl of popcorn.
Pretzels with Baby bell light cheese: This is a go to recently. I get 365 Pretzels from Whole Foods and Baby Bell light cheese and eat them together.
Horizon String Cheese: It's amazing and another thing we always have in our house. Clearly I am 5 years old.
Greek Yogurt with Berries/Granola: I am a huge Greek yogurt lover. I put it in my smoothies and love it for snacks with granola and berries. Specifically blueberries. Yum. Bonus blueberries are amazing for you.
Green Smoothies: This is a daily must have. Even if it's not a snack, it's either part of my lunch or a pre-dinner "appetizer." I always have one. This May will be six years since I started drinking daily green smoothies and I haven't stopped. Even when traveling I try to find a way to make them happen and usually can. Most hotels have the ingredients. In mine currently I use Spinach or Kale, Pineapple, Blueberries, Strawberries, Apple, Truvia, Greek Yogurt, 2-3 ice cubes, and a bit of water. Blend it up in the Vitamix (or your blender of choice). This yields two servings which is perfect for Andrew and myself. Plus you know you are getting your fruits and veggies in.
What are your easy healthy snacks that you love?