It's no secret that I love to read. It's always one of my goals to read a certain amount of books a month. I also love to go back and reread favorites. One of my favorite things is sharing book suggestions with you guys, and I always get such great feedback and requests to share more. Today I am sharing my favorite chick lit books with y'all. These are more of a fun, beachy, travel type read. Granted travel is not required 😉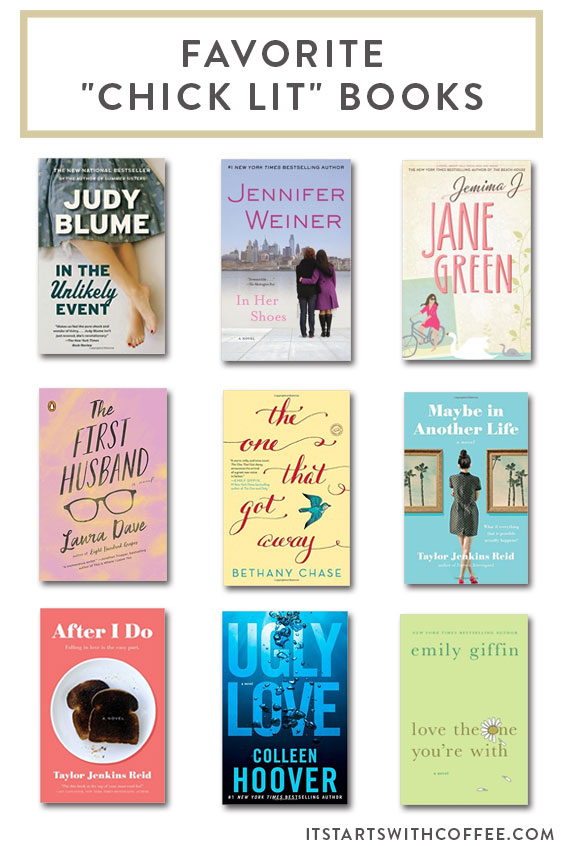 Favorite Chick Lit Books
One of my all time favorite authors is Emily Giffin. I have met her several times in person and she is SO SWEET! Also, her books are very relatable in my opinion. I have been asked numerous times which of her books is my favorite and it is without a doubt, Love The One You're With. Her other books are great, but this was the first of her books I read and I always really loved the story.
Another author you've heard me rave about time and time again is Colleen Hoover. Ugly Love is one of her books I've read at least 5 times. It's so raw and real and you just never see certain twists coming. That's a lot to pack into one book.
I really love all of Taylor Jenkins Reid's books. I read the first two on my honeymoon, and while I would not exactly suggest that as the best time to read them as they both have to do with marriage they were both amazing. I read each of them in one day. After I do, is my favorite of her books although asking me to choose is really hard since I loved them all. Maybe In Another Life is also not to be missed.  I have even interviewed her on my blog which you can read here.
When I discovered Bethany Chase and the book, The One That Got Away my biggest complaint was that she didn't have any more books out at the time. She does now. But go get this book ASAP!
I read The First Husband by Laura Dave years ago and I could not put it down. It seriously drew me in from the beginning and had me hooked the entire time.
I read a TON of Jane Green books in college and I think Jemima J will always be one of my favorites. It's so real and I remember using a book light (remember those?) to not wake up my roommate trying to finish it at 3 AM.
Admittedly I saw In Her Shoes the movie before ever reading the book. In fact I believe seeing that movie drove me to get the book, which in turn drove me to check out more of Jennifer Weiners books. I love her as an author and as a person. Also her Bachelor and Bachelorette live tweets are AMAZING.
I really wish it was socially acceptable to read a lot of Judy Blume's books for kids as an adult. I really loved them growing up, and her books for adults are just as amazing. What an awesome author who has written books for so many generations so you can actually grow up with her. Her latest book, In The Unlikely Event was SO GOOD. I've read it twice.
These are my favorite chick lit books and I would LOVE to know what you would add to this list. I always need suggestions.