I always thought shopping for maternity clothes would be really fun. Parts of it were and parts of it were hard. There was a long time in my pregnancy where certain maternity items were too big but non-maternity stuff felt too snug. So I had to start improvising. These are my favorite non-maternity clothes for pregnancy that you can easily wear throughout!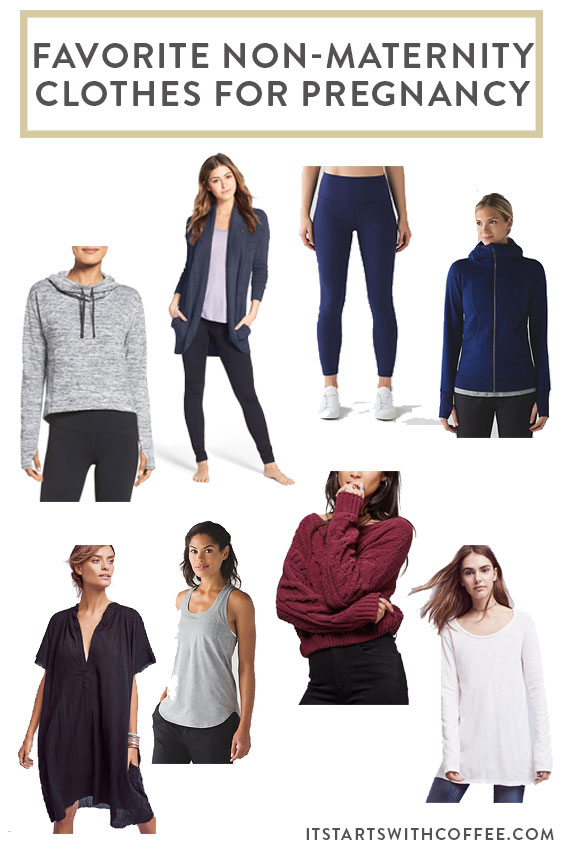 Favorite Non-Maternity Clothes For Pregnancy
Since I spend a ton of time in workout clothes, this was first one my list of things to invest in. I found that a lot of maternity workout leggings just didn't work for me. I love Lululemon Align Pants so I just sized up one and they worked for me from 20 weeks on! Plus I loved that I could wear them right after as well. They have a high waist so they work really well. I also could wear most Lululemon tanks. Again about half way through I just sized up for a bit looser fit. The Yogi Racerback was my favorite. It's very forgiving and loose fitting. The Scuba Hoodie was perfect to wear to the gym and on errands. It's a bit big on me but I really love it. These are all things I can wear after pregnancy as well. Another workout piece I wore a lot was from Zella. The Dance Vibes Crop looks really cute over tanks or other long tops.
As far as non-workout clothes went, truthfully I wore Align pants even out on dates with Andrew or under dresses and tunics! They are just so dang comfy! During the Nordstrom Anniversary sale I picked up two Barefoot Dreams cardigans and I wore them ALL fall and winter. They are so comfy cozy and look perfect with leggings, jeans, boots, flats, everything. They are worth the price for sure. Even after pregnancy these continue to be worn daily.
I got this free people sweater in white and it became a staple of mine. I find that most cropped sweaters are very pregnancy friendly. Especially if you have a cute long tank top to pair with them. This really cute black dress from Anthropologie was perfect for dressy events or nights I wanted to be a little more put together. It's so soft and easy to layer jackets over. I didn't have to size up because it was so loose. Also from Anthropologie was this long sleeved white tunic which I wore a ton! Cute with leggings or jeans and really soft!
I did splurge on a few maternity items but I always felt good when I could find non-maternity things that I could make work too just because I knew I would wear them after as well!
Do you have any favorite non-maternity clothes for pregnancy?