It's Tuesday, and on Tuesdays I like to talk blogging! I have talked about a lot of things you should be doing on your blog. I have talked about mistakes you are making and how to fix them, I have talked about what you should spend money on for your blog. Today I am talking about five things bloggers should NEVER do! Remember as always this is my opinion and what I have learned from my over six years of blogging. You have to take it for that, not for gospel.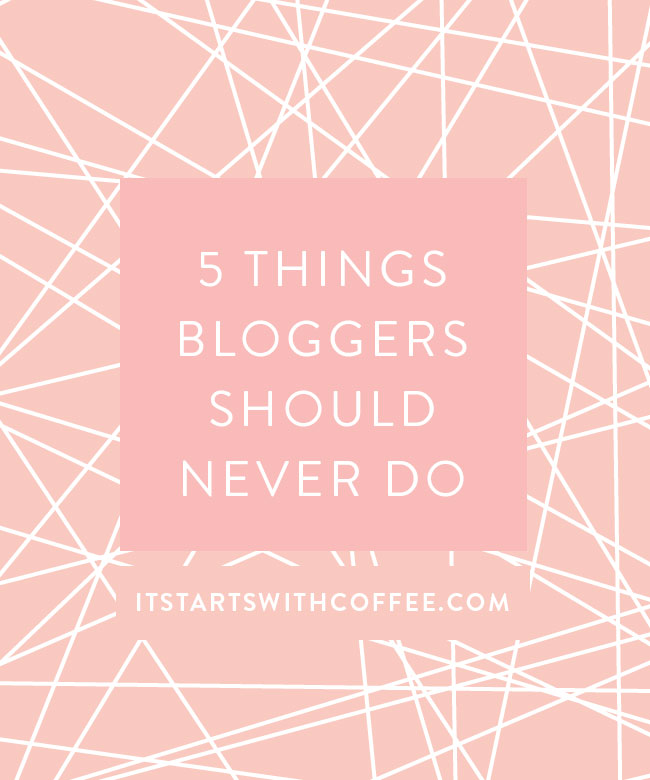 Never ask for something without offering something: I mean this in two ways. For starters, never ask a blogger for a favor without offering something in trade. This can mean not to send an email and say "hey can you promote this post for me?" and then offer nothing in return. The correct way is to say "hey I would be so grateful if you could help me spread the word about this post. Also, I am happy to spread love for you too, which post or social post would you need some love on?" This also applies to asking other bloggers for contact info for brands, asking to guest post(have them guest post for you too!) The bottom line is you can't expect someone to help you if you aren't willing to help them. General life rule.
Never FLAT OUT copy someone: There is a lot I could say about this. Recently I had someone FULL ON copy a post. Not the idea, the actual post. I have had people copy ideas and give me credit (yes, do that!), I have had someone copy my blog design (or try to at least) DO NOT DO THAT! I have also had people take my blog course, then copy the information and offer it as a course on their blog. Ugh. So here's a good example of what to do. My blog friend Lisa wrote a post and I loved the idea. I asked her if I could write a post using the idea. She said yes. Then at the beginning of said post I gave her credit and a shout out with a link to her blog. If you love an idea someone used, then please ask them if they mind you writing something similar, and then please give them credit. I have never ever heard of someone saying no!
Never talk crap about a brand online: Have you heard the golden rule? If you don't have anything nice to say don't say anything at all? Listen, social media can be used in a good way and a bad way. One day I had major issues with logging into my Bank of America account. I tweeted to them for help and they helped really quickly. I however see people all the time full on talk crap about brands on social media and tag them. Here's the thing; all brands are watching you. If you talk crap about Brand A, Brand B will see it and so will Brand C and none of them will want to touch you or your blog with a ten foot pole. Having issues with companies happen all the time and if you need quick help Twitter is always a great place for that. But maybe nicely say "Hey @_____ I am having an issue I could use some help with can you point me in the right direction?" Just food for thought!
Never do it JUST for the money: This is more for sponsored posts. So when you want to make money from your blog you will see that there are offers and posts you can apply for that super align with your brand and your blog. If you are a beauty blogger it may be working with Dove. If you are a health and fitness blogger it may be working with Fitbit. But it can be really tempting to say yes yes yes to every single post that comes your way.  But if it doesn't fit with you and your brand don't do it. Your readers can tell, and you don't ever want to sell out. It can be easy to, trust me. One time a certain sexually driven company emailed me. They offered me a lot of money to do a sponsored post. Here's the thing, I do not talk about my sex life on my blog nor will I ever. It's a personal decision. I have no issue with the company and their message but it's not for my blog. That's not to say it would be wrong for someone else to, but it's a personal choice everyone must make for themselves.
Never compare/Never compete: So say Blogger A got a huge post or partnership and you wanted it. It happens every day to lots of bloggers. We all deal with it. Remember that comparison is the thief of joy and that those decisions are made on a lot of factors. Don't compare and don't compete. Why would you want to? It takes so much time and energy. Time and energy that can be spent making your blog and social media better, Improving your skills and being a happier person. There is so much for us all. There is not a shortage of blogging opportunities and there are only more coming our way. Focus on yourself and NOT what others are doing!
So those are the five things bloggers should never do and a little explanation why. You can agree or not and that's totally OK but I would love to know if there are any things you think bloggers should NEVER do! Leave them in the comments!
If you found this post helpful please tweet about it! Tweet: There are 5 things bloggers should NEVER do. Are you doing them? @Neelykins has the answer!
If you enjoyed this post please save it or "heart" it on Bloglovin.
Also if you enjoyed this post and my other blog advice posts you should check out my blogging courses!