As you know if you've read my goals for the year, you know staying healthy is a HUGE goal of mine! Focusing on goals is something I really try to do daily.  I talk about it monthly with mini goals, and I have always said that I don't want to focus on a scale number just generally be healthy, eat well, and exercise daily. I do not have a specific scale number in mind, I mostly just want to make sure all my clothes fit and when I have to be in a bathing suit I don't want to cry. The dream right?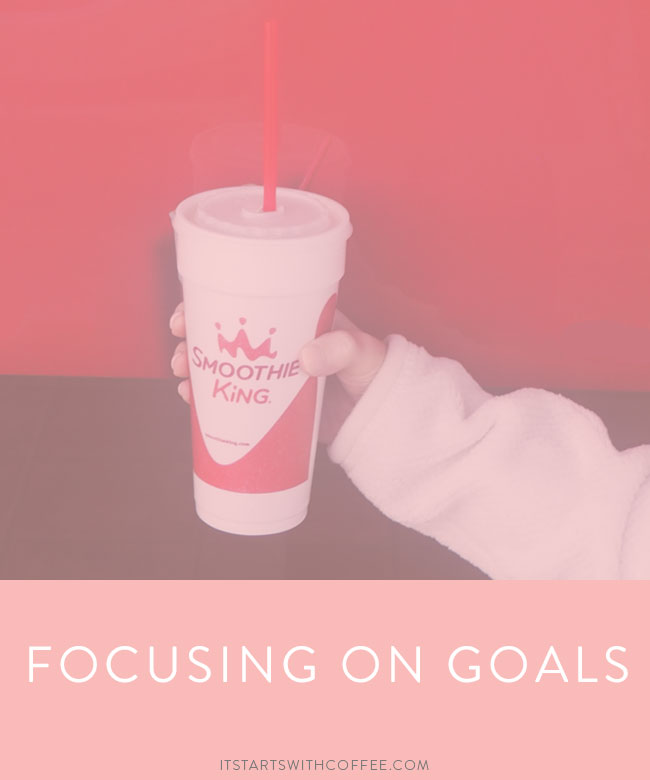 I have always been a huge fan of Smoothie King. In fact, before my coffee habit I had a smoothie a day habit. Recently Smoothie King came out with meal replacement smoothies! This is perfect for anyone who is in a rush, needs something quick, or wants to stay on a healthy track but can't always meal prep and plan. I could see myself grabbing a smoothie for breakfast or lunch. So much so that earlier this week while running errands I popped into Smoothie King and grabbed a smoothie lunch! I had a very hard time deciding because there were so many choices. This is great if you are any kind of picky eater because, trust me, they will have something for you!
Smoothie King has 20 Meal Replacement Smoothies that span Slim, Fitness, and Wellness blends, all with the goal of helping you reach your goal of a healthier lifestyle.
These are the choice and let me tell you that Lean Vanilla is TO DIE FOR!
Smoothie List:
• Gladiator® Chocolate*
• Gladiator® Strawberry*
• Gladiator® Vanilla*
• The Activator® Chocolate
• The Activator® Vanilla
• Lean1® Chocolate
• Lean1® Strawberry
• Lean1® Vanilla
• Lean1® Tropical
• Vegan Dark Chocolate Banana
• Vegan Mango Kale
• Greek Yogurt Pineapple Mango
• Greek Yogurt Strawberry Blueberry
• Greek Yogurt Peach Papaya
• The Shredder™ Chocolate
• The Shredder™ Strawberry
• The Shredder™ Vanilla**
• High Protein Almond Mocha
• High Protein Banana
• High Protein Chocolate
Nutritional To Note:
• Under 400 calories (Based on 20oz Serving), minimum of 10 grams of protein and 35 grams of quality carbs.
• Protein and fiber keeps you feeling full, longer.
• High in protein, highly nutritious, and highly filling.
• *Gladiator® is dependent upon how it's made
• **The Shredder – Vanilla has 31g carbs
Sign-Ups:
• Share your goal to get started at smoothieking.com/changeameal! You'll be entered to win prizes and earn more chances to win every time you post #changeameal smoothie selfies.
• Join the e-Kingdom to get a $2.99 coupon and #changeameal.
• Earn rewards every time you #changeameal! Get the free loyalty app.
***Weight loss is dependent on each individual's needs and is based on a low-calorie diet combined with an exercise program. Consult your physician before beginning any diet program. 
Is focusing on goals important to you?