Well I am 9 years into blogging and over 2500 posts later I think I can share a few things about five things every blog post needs.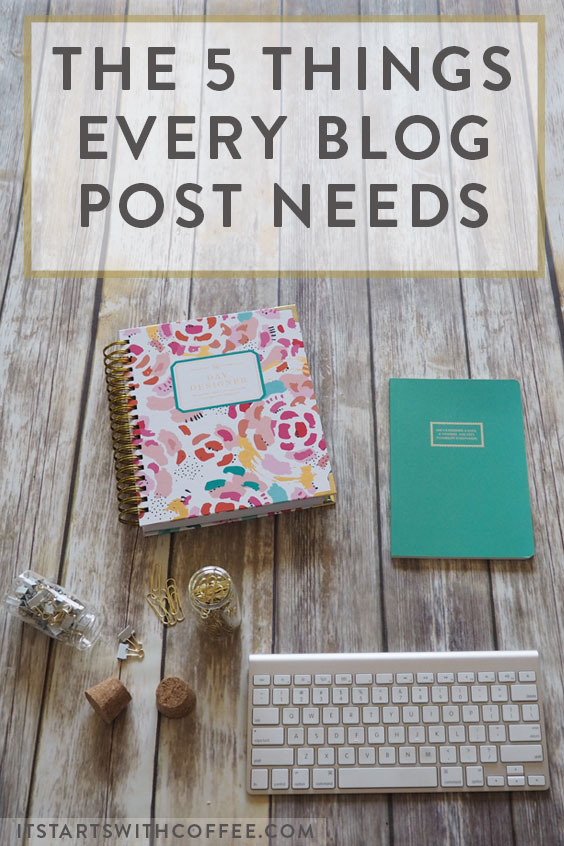 Five Things Every Blog Post Needs
A Catchy Title: You want people to click on your post but you don't want to be deceptive (no click bait!). So make it catchy, something people want to click on and read, and share ultimately.
Great Images: You don't necessarily need A LOT of images, so this is a quality over quantity thing in my opinion. Just make sure you have a pin-able image so that if people want to pin your post it does well and others can find it on Pinterest.
Helpful Information: What are you putting IN the blog post? Are you giving your readers helpful info about a product, place, item, or idea? Make sure whatever you are sharing you are giving the most helpful information possible.
Something others can't offer: To piggy back off the above, yes there might be 500 blog posts about what to pack in a diaper bag or what items to take on a beach vacation, but YOU offer something different. YOU have your perspective and point of view which is unique. So even if the idea has been done remember that you have a different take so offer something others can't!
A Closing Question: I try to close every blog post with a question because I truly love connecting with my readers. So many times comments have turned into days of emailing back and forth about books, podcasts, movies, and more! So close with a question and see what comes of it!
I know that every blog post may require additional items but I think these five things every blog post needs are the bones of what they should have!
If you enjoyed this post, I would love if you saved/heart it on Bloglovin' and check out my other blog advice posts!