Nope, it's not holiday season and yet I have a gift guide. Why you ask? Because people buy gifts all year! Mother's Day, Father's Day, Birthdays, Anniversaries, or just for no reason at all. Sometimes it can be hard to know what to get someone. I swear sometimes I just wander around stores unaware of what to get for people. Especially since at this age most of my friends and family members just buy themselves whatever they want. Don't even get me started on shopping for my husband! So here is are some great gift ideas for the fitness lover in your life. Don't worry, I have tons more gift guides coming up!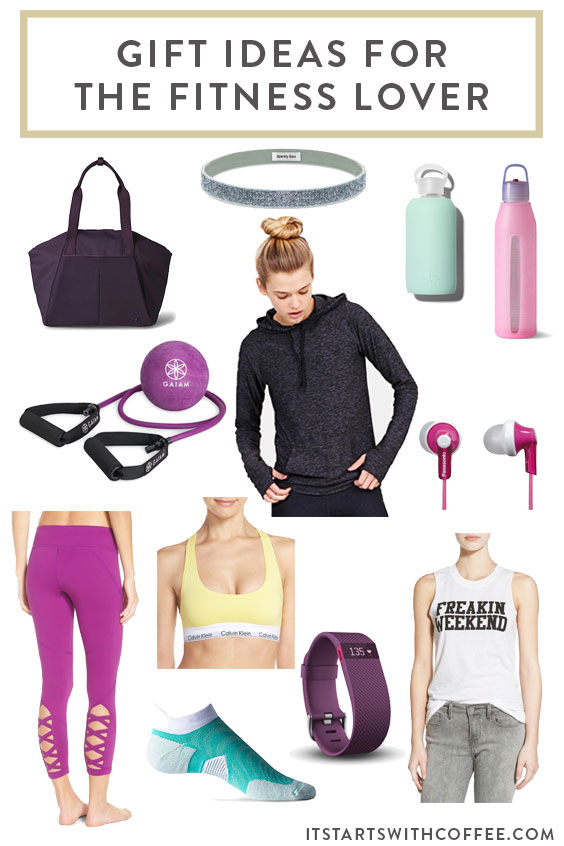 Clothes: I can promise you that anyone who is a fitness lover will love workout clothes. I get overly excited when a birthday or Christmas gift is workout clothes. Be it cute tops, fun leggings, or a pretty sports bra. I don't even care as long as it's workout related. Some of my favorites are fun tanks with something written on them. This freakin weekend tank is so cute. I also love the selection Target has. My "NOPE" and "FRI YAY" tanks always get compliments at the gym. These super fun Zella leggings are perfect for a friend who loves yoga or barre classes. I recently discovered Outdoor Voices and this Catch Me If You Can pullover is a spring staple. It's great to throw on over a tank in the morning when it's a bit chilly or if you are taking an evening yoga class. It comes in a ton of colors and is possibly the softest thing I own. I love Calvin Klein sports bras. My husband gifted me with one for Christmas, and I recently added a second to my collection. They are BEYOND comfortable. I have talked at least ten times about my love for Lululemon socks and anyone you buy them for will love you!
Accessories: I'm sure anyone would love a great gym bag. Lululemon has TONS, but this one is my current favorite and on my wishlist. The color, the style, and the size are just everything. So many pockets and storage compartments. You really can't go wrong. You also can't go wrong with a no slip headband. This sparkly one is perfect to add a little fun to anyone's gym outfit.
Everything Else: I think I have more cute water tumblers than should be allowed, but I always ask for more. I love options what can I say? It's also one of my go-to gift ideas for my friends. This Lululemon one is great and you can't go wrong with a BKR original. Even people who aren't fitness lovers will love a cute water bottle. I know for me when we moved to the suburbs one of the things I was worried about was making it to barre classes. Sometimes it's just tough with traffic. I found a really awesome start to an at home barre kit on Amazon that any friend would love! I lose ear buds all the time. I try to keep a pair in my purse and in my car and those pricey ones just don't do it for me. I honestly think these from Amazon are just as good and they come in a ton of cute colors. If you really want to break the bank I think getting someone a Fitbit is a great idea. I know so many people who love theirs. I had one and honestly just didn't see a huge need for it. But I know people who get super competitive with the steps. I also think getting a month membership to a workout studio you know someone loves or even a service like ClassPass is a great idea. Who wouldn't want to try a ton of different workout studios?
So I think I have covered most gift ideas for the fitness lover in your life, but if you can think of something I missed please let me know in the comments!