I have been blogging for over 11 years. Crazy right? In that time I have had times where I felt uninspired. I think anyone would after that length of time. When I am feeling like I can't find any inspiration there are certain places to find inspiration I look. These are places that have worked for me for years and really are my go to's.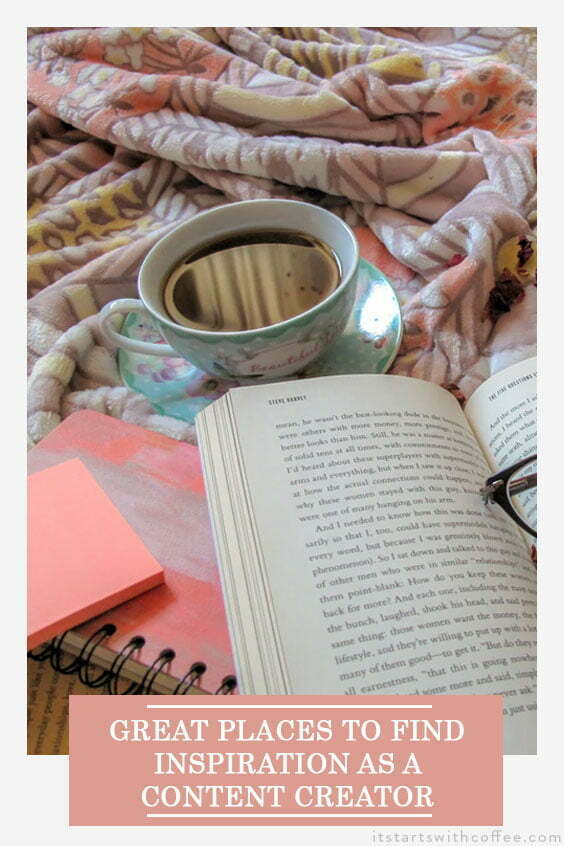 Great Places To Find Inspiration As A Content Creator
Pinterest:
Pinterest is probably my number one place. When I feel uninspired, or just in a rut with anything in my life I love scrolling through Pinterest. It's a great place for a blogger to find quotes, blog post ideas, or just look at beautiful photos.
Instagram:
I love looking at inspirational Instagram accounts and I find that seeing other's posts can really jog ideas of your way to put a spin on something.
Reading Other Blogs:
Of course other blogs! I love to read blogs. I am old school in that I prefer to read a blog more than scroll through social media. I was a blog reader before I even had a blog. Reading what other bloggers are going through and thinking about sometimes jogs ideas in my head.
Journaling:
This is not something I do as often as I'd like but when I feel overwhelmed or uninspired I find that journaling my thoughts helps. Even in an informal way. Sometimes I write it sometimes I type it in a word doc. Clearing my mind in that way has helped me better refocus.
Everyday Life:
So does anyone else find inspiration in the shower? Haha no really, I feel like some of my best blog ideas come to me when I am just doing everyday things. I keep a running list on my phone and even sometimes add them to our Alexa! I feel like drawing from real-life experiences are the posts that I get the best feedback from.
I think that as content creators we can really put so much pressure on ourselves to have new fresh ideas all the time. It's OK to feel uninspired and we need to normalize that more. I hope these gave you some ideas of some places to find inspiration when you are having a rough time coming up with ideas.
Where do you look for inspiration?