I hope everyone is having a great week so far! I am so excited for this month's monthly wellness series challenge: organization. I thrive on organization and honestly, I think most people do. As someone who suffers from a generalized anxiety disorder, disorganization is a huge trigger for me. So having an organized house and a plan in place to keep it that way has really helped.
Last month my challenge was to do 10K steps a day and move my body in some way for 30 minutes a day. I did that every day during the month and I am so glad I did. I honestly felt so great all month.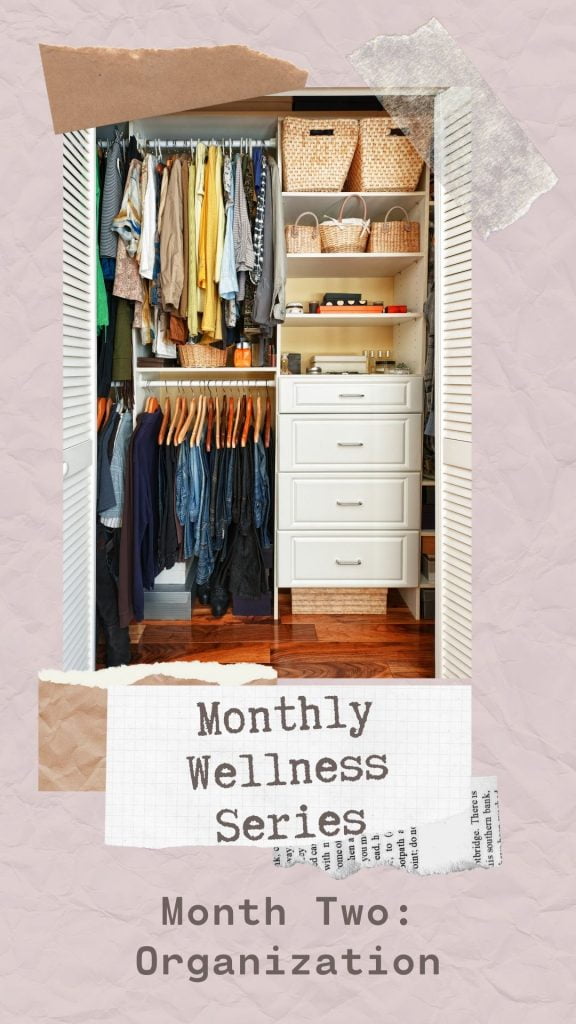 Monthly Wellness Series Month Two: Organization
Why I think it's important:
When I think of organization I don't just think of cleaning. I think of to-do lists and an organized mind. As I mentioned above having organized spaces really helps a lot with my anxiety. I am someone that can't go to bed at night without having things put away and in their place. I like to-do lists, clean spaces, and anything involving organization. We've even used The Neat Method for our closet twice which has really made me realize why certain spaces being organized is important.
What I do:
Daily, I start each day with a to-do list that keeps my day organized and planned out. I am also a big Google calendar user. I don't really use a daily paper planner anymore. I like that my husband and I can sync our calendars and my son's school calendar even syncs. Since I work with a manager for my blog, I also can sync when things are due to brands. For me, this is the best way to stay organized in that aspect. We also keep the house clean throughout the day. I clean as I go in the kitchen which is the best way to make a smaller kitchen not feel junky. I also put things away we aren't using. If I get out the playdough we put it away when we are done, etc. At night we clean the kitchen, put everything in the playroom away, vacuum, and put other odds and ends away in their space. It really makes your house feel clean and fresh. We do have a lady that deep cleans our house once a week which helps a lot. But, we clean up after ourselves. I also purge A LOT. When the kids grow out of clothes I donate or sell them. When I notice there are clothes or shoes I no longer wear I donate and sell them. Same with toys and baby items. When we are done with them we donate or sell. There is no reason for us personally to hold onto stuff.
The Challenge for this month:
This month my monthly wellness series challenge is to put things away as you go every single day. Also, try to make a daily to-do list at night before you go to bed for the next day. You will feel SO MUCH calmer knowing everything you need to do is written down.
What do you do to keep yourself organized?