If you read my blog regularly you have seen me rave about how much I love the Lululemon Everywhere Belt Bag. I have mentioned it in tons of posts and gift guides and think it's pretty much the best $38 you'll spend on an accessory. If those posts haven't convinced you I think today's Lululemon belt bag review just might!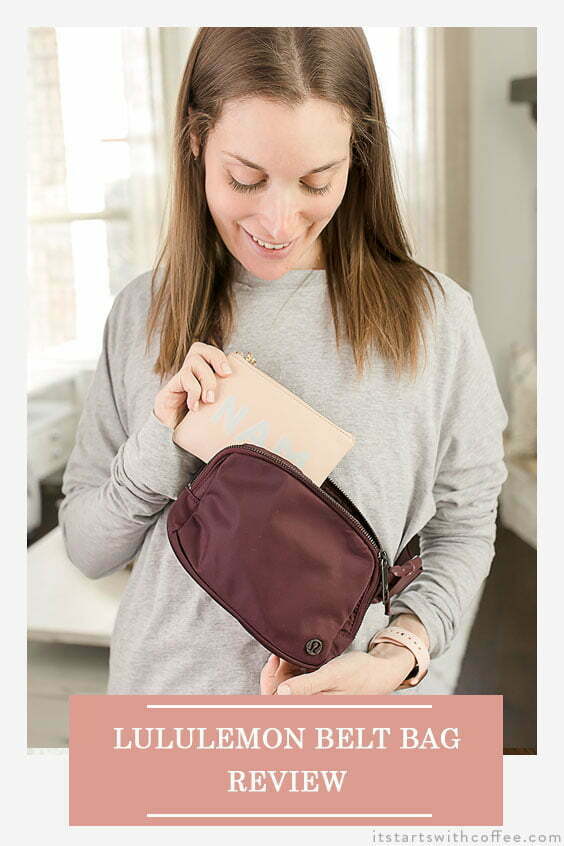 Lululemon Belt Bag Review
Why I love it:
I really wasn't sure I could pull off the belt bag trend and honestly, maybe I can't But I saw this one while on the hunt to try one out. I didn't want to spend a ton of money and I wanted something durable. I have two kids and this bag needs to be able to withstand things like the park and trying to hold a 20 lb baby and a 40 lb 4-year-old. I also love that it had a TON of color options. They seem to always have new colors too (which is very tempting to buy more). The Lululemon belt bag is also perfect for anyone who wants to cut down on how much stuff they carry in their bags/purses. It's not huge and can only hold the necessities (more on that below).
Features:
The belt bag features a large opening for all of the things, a small pocket inside, and a small zipper pocket on the back. I don't really use the back pocket. Just for me personally, it isn't necessary. It is big enough to hold a small pouch with credit cards/cash, AirPods, lip balm, a hair tie, another small pouch I use to organize gift cards, my keys, and iPhone. So really, it does hold everything you NEED. It does not ever feel heavy which is a huge bonus. Plus it looks cute with pretty much anything I wear. Which is either athleisure or dressed up athleisure #pandemicmomlife.
Is the Lululemon Belt Bag worth it?
The Lululemon belt bag is ABSOLUTELY worth it! If you are someone with a busy day-to-day life, someone who runs errands ever, a mom, anyone busy, or just anyone who carries things with you then this bag is for you. Clearly, it's for everyone. I wanted to do a deep dive Lululemon belt bag review because I truly think this is something everyone should own. At $38 you really can't beat the price for how much you will use it.
Are you convinced to buy the Lululemon belt bag? What color is your favorite?