At this point in my life I pretty much buy myself whatever I want. I do try to save a few things for the holidays since Andrew and I love to get each other gifts and my parents do still ask for a list or some ideas at least. So before we head out for the holidays I wanted to share my 2021 Christmas wish list. It's MOSTLY practical items!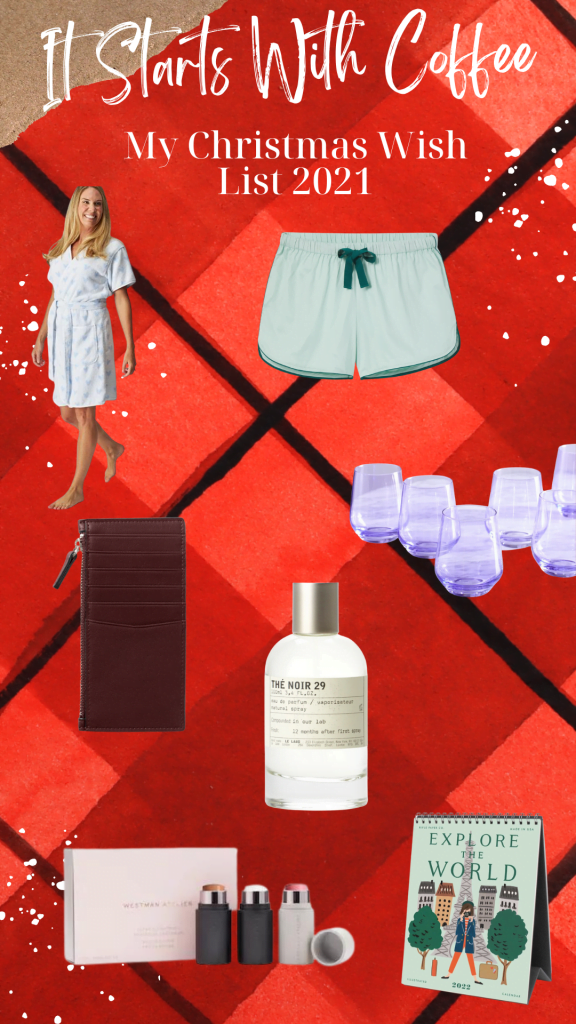 My 2021 Christmas Wish List
I think pajamas are such a great thing to ask for because honestly I hate buying them for myself. Lake Pajamas are my favorites and I actually really love their pajamas separates as well as the sets.
I have wanted Estelle wine glasses for the longest time. I think I have finally convinced Andrew to buy me a set.
I have had my bathrobe for a few years now and I could for sure use a new one. I am really loving this one from Pottery Barn.
Pretty much every year I get a desk calendar. I love the Rifle Paper Company travel calendars. They are so pretty!
I got a Le Labo perfume this year and got a sample of a few others. My mom  LOVES the Noir 29 and so do I so I definitely have this on my list.
I love Leatherology and this slim wallet card holder is great for travel. Such a practical gift.
I have talked about how much I love Westman Atelier and I love that I can get 3 small sizes of their products in this set. So great for travel or just testing out new products.
I am pretty sure I am getting gift cards from my parents because I really couldn't think of anything else. I would love to know what's on your 2021 Christmas wish list.