So we are creatures of habit around here. I don't know if any of you guys are like this but we rotate through he same 10-12 meals pretty regularly. I have talked before about how we always meal plan before we grocery shop, which not only saves money but saves a lot of discussion during the week. We know what we need all week. Now I even meal plan Liam's lunches since he started school this week! Today I want to share our favorite chicken recipe that we use more than once a week and for several different dishes! It's extremely easy and I know you busy ladies (and men) will love it!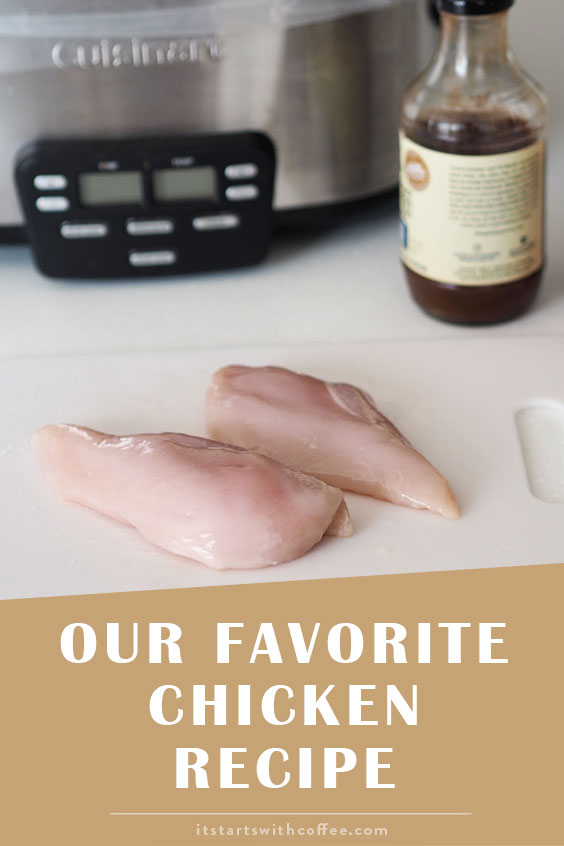 Our Favorite Chicken Recipe
Ingredients:
4 O Organics® Air Chilled Chicken breasts boneless skinless
Any BBQ seasoning
G Hughes sugar free BBQ sauce
Directions:
Prep your chicken: we like to cut them in half and sometimes butterfly them
Season chicken with BBQ seasoning of choice
Put in a slow cooker/crock pot
Drench in half a jar of BBQ sauce (we love this one because it's sugar free and when I was doing weight watchers it was 0 points!)
Turn slow cooker on high for 4 hours
Done and done!
What we use it for:
Salads: I eat a TON of salads for lunch and I chop it up and throw it in any salad
Sandwiches: This is great on sandwiches for an easy BBQ chicken sandwich hot or cold
As a main dish: This is great with potatoes and veggies for dinner or with apples and carrots for lunch
On Pizza: Andrew even loves it as a topping on our weekly pizza we make every Friday
We love the O Organics® Air Chilled Chicken because of how healthy it is and easy it is to use for so many things. It's also insanely good! O Organics Air Chilled Chicken and Open Nature® Air Chilled Chicken is available in the DFW area exclusively at Tom Thumb/Albertsons stores.
A little about the O Organics® Air Chilled Chicken:
Individually processed with purified air for 100% more natural flavor
The chicken meat is higher in highly desirable Omega-3 fatty acids due to a proprietary 100% organic flaxseed-enriched feed (meat contains up to 3x more omega-3s than conventional vegetarian-fed chicken)
Up to 40% Lower in dietary cholesterol due to a proprietary flaxseed-enriched feed (contains up to 21% less cholesterol (will vary by cut) than conventionally-fed chicken)
Lower in saturated fat (vs. conventional vegetarian-fed chicken), a fat that many health organizations advise Americans to eat less of
Cage free and American Humane Association certified
Naturally moist even when skinless
O Organics Air Chilled Chicken are fed a 100% organic vegetarian diet
We really gravitate towards things we can use in a variety of ways. Also things that all three of us love and can eat without getting sick of. We make this chicken every Sunday and Wednesday and use it the next few days. Sometimes we make 5-6 at a time. I find for meal prep and planning having great tasting cooked chicken on hands just makes lunches and dinners tons easier. With back to school and life getting busy our favorite chicken recipe comes in handy more times than not!
Do you think you will try our favorite chicken recipe?
This is a sponsored conversation written by me on behalf of ABSCos. The opinions and text are all mine.
This is a sponsored conversation written by me on behalf of ABSCos. The opinions and text are all mine.