Happy Summer friends! While I am not usually the hugest fan of hot weather I am a fan of fun summer activities, products, summer TV, and summer clothes! Today I am sharing some of my summer favorites!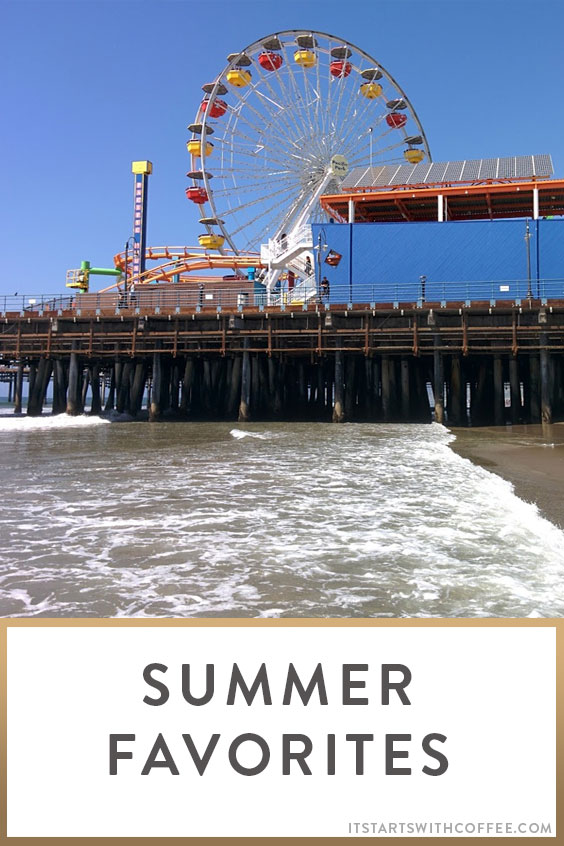 Summer Favorites
Summer TV: Obviously like most people I am pretty pumped for the Bachelorette and Bachelor In Paradise! Although not entirely sure if BIP is coming back… have y'all seen the news?! I am also sad Pretty Little Liars is ending 🙁 If you want something fun and new to watch check out Confess on Go90! You can download the app for free and watch the show, based on Colleen Hoover's book, Confess. I am also loving 13 Reasons Why which I binged in April. Oh and Unbreakable Kimmy Schmidt and Orange Is The New Black on Netflix! So much good TV!
Beauty Products: I have no idea how I found Invisibobbles but I am obsessed. They are my favorite hair ties now. I am also LOVING my Clarisonic Mia FIT (gifted) and Garnier Micellar water. Seriously where have I been on this stuff? It takes makeup off better than anything. Also if you are looking for an amazing mask: The Peter Thomas Roth Cucumber mask is bomb! Seriously, I use it about 3 times a week let it soak in for 10 minutes and rinse it off and its perfect for summer.
Clothes: I pretty much live in Lululemon in the summer months and all year really. Power Y tanks are my favorite for summer. I also love this sports bra. I have about 6 of these EmiJay tanks for barre and just wearing around and I love them! For non workout apparel I am really into denim shorts. So easy to dress up or down.  How cute are these Steve Madden sandals? So trendy but great price point! Also wearing this baseball hat on REPEAT!
Random: Time at the lake is pretty much the best! We are taking Liam to the lake this week and I am so ready for lake, pool, beer, reading, and relaxing with my two guys. Also I have been back at Pure Barre for about 2.5 months now twice a week. You guys. I love it. I forgot how amazing barre feels. I have been going to Pure Barre Addison and the teachers, community, everything are wonderful!  If you are in the DFW area come take a class with me at Pure Barre Addison!
What are some of your Summer Favorites?