I remember when we had Liam I had no idea what we really NEEDED when we got home from the hospital. Spoiler alert: it's not as much as you think. After talking to a ton of my mom friends we agree that the amount of stuff you THINK you need and what you REALLY need are so different. So today I am sharing the top baby items you need the first month so for any of you first time mama's out there you don't over buy!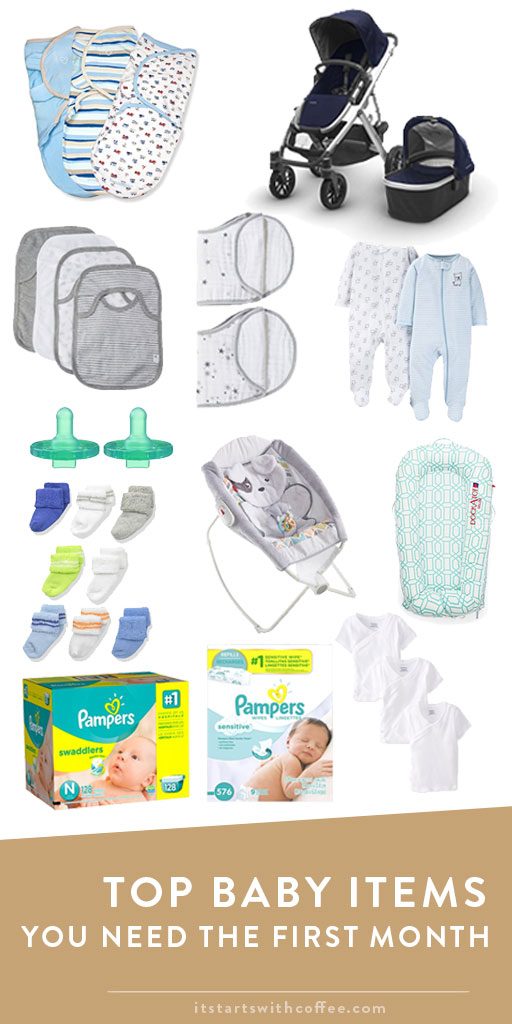 Top Baby Items You Need The First Month
Clothes: Liam tends to be warmer than most babies and when he was swaddled we would put him in these little side snap t-shirts. He slept in these for the first 4 months! They are super comfy and really easy to put on and off and for diaper changes. Every baby needs socks! Make sure to have tons on hand. Any kind of ZIP UP footed pajamas are a must. You may have these grand hopes of cute outfits but lets be real. Your kid will wear jammies the first month or two exclusively. Don't mess with buttons. The first month we were home we used Swaddle Me brand swaddles. They velcro and are very easy to figure out and keep baby very snug! Before Liam learned to pull his arms out these were our favorites.
Around The House: We LOVED the DockATot and while we never let Liam sleep in it over night he did take a lot of naps in it and played in it during the day the first month. I have never come across a baby who didn't love the Rock N Play and I am so glad we had this. Liam loved it and took his best stretches of daytime sleep in it those first months.
Essentials: The top essential is for sure diapers and wipes. We had Pampers swaddlers on hand as well as Pampers sensitive wipes. Highly recommend both!  Pacifiers are for sure an essential. Liam still at one year only likes the Soothie ones from Philips Avent and honestly that's fine with us.  You need a good stroller/car seat system. We still love the Uppababy and even though Liam has grown out of the infant car seat, we love the stroller! Bottle feeding (if you choose that) can be messy because babies dribble a lot. We loved these Burts Bees pullover bibs. We used them until Liam was maybe 8 months they are super soft and don't have velcro! To go along with those the burp cloths we used were the Adan and Anais burpy bib ones and we still use them!
There are other things like bottles, a bathtub, a crib, a bassinet, and more that you need, but these items are the ones we used most the first month. Don't think you need every new product, toy, and book out there. Babies don't require much those first weeks.
What items did you use a ton the first month?