I wouldn't call myself an Amazon addict, OK fine I am. But with good reason. Amazon is just the best. You can find such treasures and usually get anything you need within a day or two. I feel like I am always finding great organizational stuff, clothing finds, wellness, etc. Check out these 10 things to buy from Amazon right now!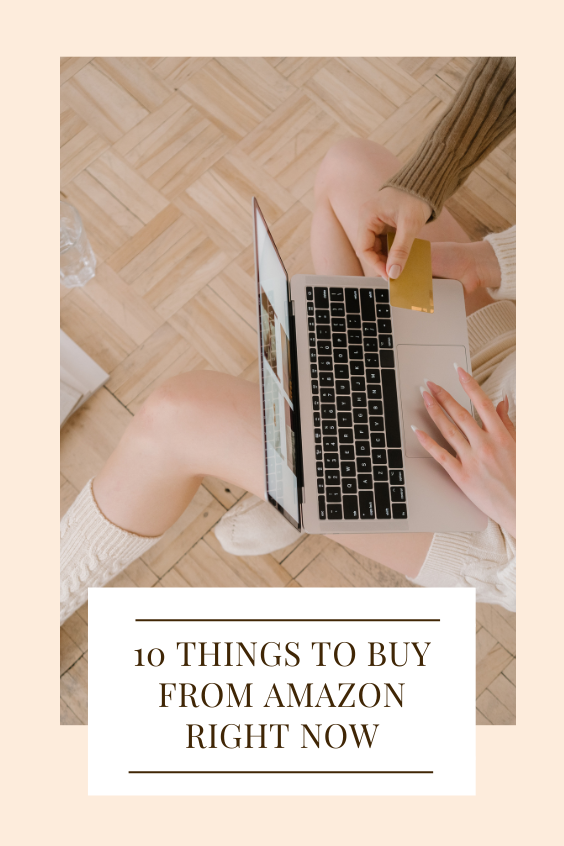 10 Things To Buy From Amazon Right Now
These Drawer Dividers: I mentioned in another post this week how much I love these drawer dividers but truly they've changed our dressers. The kids drawers were such a mess and hard to keep things like socks, underwear, swimsuits separated. They are kids and they plow in there and move everything. But this keeps it so much more together.
This portable Charger: Everyone has a portable charger but truly this is the best especially for travel! It charges several things at once if you need it to and the charge on it lasts A LONG TIME!
This acupressure mat: At this post I have probably mentioned this thing in 40 blog posts but it's still one of the best purchases I have made. I use it a few times a week and especially it's helpful when I am sore or have a bad migraine.
This fabric shaver: I love using this on our comforter or sweaters to make them look new again!
This steamer: Truly wonderful and small enough to travel with!
This mug: You can definitely buy these other places as well but I love my corkcicle mugs SO MUCH! They keep coffee so toasty!
This Nespresso pod organizer: Something oddly satisfying when it's completely full too!
These acrylic organizers: I use acrylic organizers in our kitchen, bathrooms, by my bed, and honestly anywhere I can. They are so pretty and keep things organized so well.
This exercise dress: I tried SEVERAL and personally this is the best one. Not too short either which is a bonus!
These no show socks: These are hands down my favorite no show socks and the only ones I use!
 What is one of your favorite things to buy on Amazon??