Happy Saturday! As of today, I have 9 weeks to go until baby girl is here! My c-section (I had one with Liam after 13 hours of labor) is scheduled for November 23rd! So we are trying to enjoy every weekend as a family of 3! This weekend is very relaxed. We may check out the Balloon Festival and our hospital's NICU reunion is also today! Other than that just family time, Little Gym,  and watching the Cowboys game tomorrow! But first, weekend reading!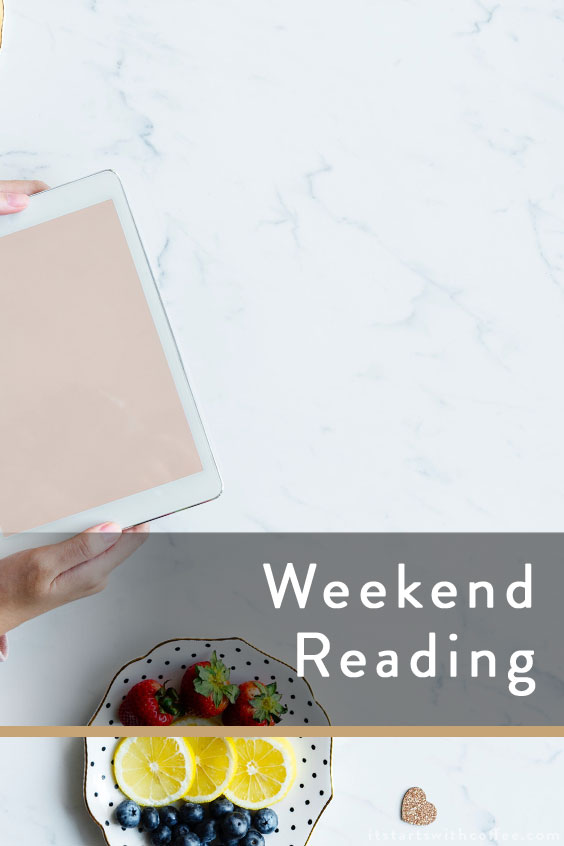 Weekend Reading
What we've been up to: This was a pretty normal week. Liam had school. I had my 30 week OB appt and everything is right on track. Liam also had an appointment to check on his asthma (fall/winter are rough). We had a fun play date one day and I volunteered at Liam's school Thursday morning. I also had MOPs on Thursday. So pretty normal week for us.
Posts/Articles I loved:
10 financial books to read if you can't afford a financial advisor
20 Fall foods from Trader Joes we should all try
Friends themed cards against humanity? Yes please.
Obsessed with this article about Michelle Obama
10 Innovative women to watch
Instagram posts that promote weight loss will be hidden from users under 18!
How, Me Too sparked the next great sexual revolution 
Space saving fitness equipment for postpartum workouts
8 Ways To Live A More sustainable life
On My Wishlist:
Loving this crossbody bag for fall especially the personalization
I need one of these for when baby girl comes
Posts you may have missed:
How To Start Your Day In A Happy Mood
10 Ways To Ensure Your Credit Is Good
What are you up to this weekend?