I turned 37 this past Saturday, and with each birthday I think back on the previous decade. But when I think of my 27th birthday vs my 37th birthday it hits different as it's probably the two most different places I've ever been in life. They say a lot can change in a year and that's true but goodness so much can change in 10 of them. So what can change in a decade? Let's dive in.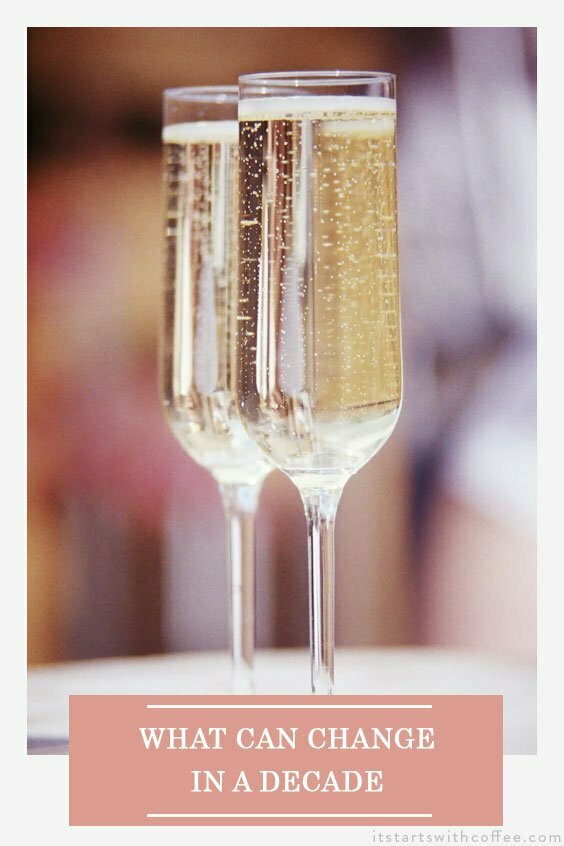 What Can Change In A Decade
My 27th birthday had me in honestly one of the darkest places I have ever been. I felt completely lost in life and very miserable. I was in a very bad up and down relationship and honestly was not sure what I wanted to do with my life work-wise. I had friends but so many of them weren't what I would call good friends. A lot would change over the 365 days after this that would really put me on the trajectory to where I am today. But, at 27 I started the year out pretty bad. I got VERY drunk, fell out of a cab, and couldn't remember much of the night. When I think about all that I cringe.
At 37, I started my birthday snuggling my sweet babies and husband, watching Paw Patrol, and drinking coffee.  The night before we had a girl's dinner on a patio and as I looked around at my friends that were there, all of which weren't in my life even 2 years ago I realized just how quickly things can change and how lucky I am. These girls have seriously become my best friends over the last few years and I could not imagine life without them. They are truly the best people I know. Then Andrew and I spent the rest of the day and night together doing a staycation at the HALL Arts Hotel in Downtown Dallas. We had a lunch date, dinner date, then a breakfast date the next morning. His birthday is the day after mine. It also happened to be Easter weekend, so our birthdays also involved egg hunts, lots of playtime with our babies, and even a park trip!
I say this because there are times in life when things aren't going the way you'd hoped and you can look around and be so unhappy. It's so hard to see what may come next, how things could change, and why your life looks this way. It reminds me of my favorite Steve Jobs quote that I have shared SO MANY TIMES:
"You can't connect the dots looking forward; you can only connect them looking backwards. So you have to trust that the dots will somehow connect in your future. You have to trust in something — your gut, destiny, life, karma, whatever. Because believing that the dots will connect down the road will give you the confidence to follow your heart even when it leads you off the well worn path; and that will make all the difference."
It also makes me wonder what my life will look like at 47. My kids will be 11 and 14. Andrew and I will be celebrating nearly 17 years of marriage. Will we be in the same house? Same city? Who knows. All I know is I am so happy in my life now and I can't wait to see what the future holds.
So, if you're at a point in life that isn't that great or you look around and feel a sense of unhappiness, just know that things change so fast. It all works out. What can change in a decade? Everything.