When I started my blog in 2009 it was a completely different industry. There weren't holiday gift guides or sponsored content, there really wasn't any social media other than Twitter. Now 13 years later things are different and this time of year is a lot more work. Plus mixed with kids, obligations outside of my home, etc I always need a break this time of year. People asked why I take a break every December so I wanted to share a little bit of why.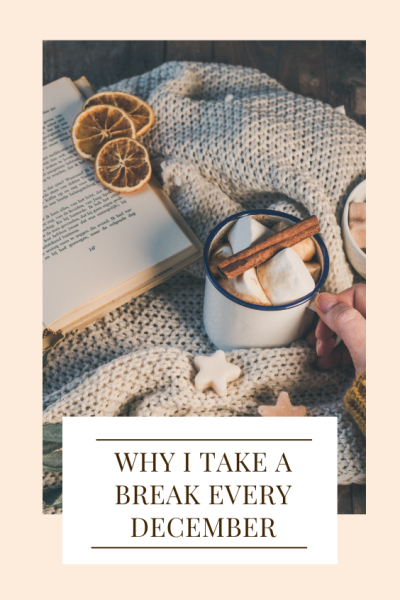 Why I Take A Break Every December
Why I started doing it: I think about 4 years ago I was still blogging 5 days a week during the holidays. But my views were super low, my comments were low, and in general, I felt like people weren't reading blogs during those weeks. I asked myself "am I even reading blogs these weeks?" The answer was no. So I decided that I would try one year to just not post on my blog for 2 weeks and see what happened. The answer? Nothing. My page views were about the same because of evergreen content and no one really seemed to care haha.
What I do instead: I do still post some to social media but mostly I relax, enjoy my family time, and try to relax. This time of year is so crazy for everyone, not just influencers. There are kid's parties, local holiday events we want to attend, holiday parties, and all sorts of get-togethers. It's nice to be able to focus on those things with our family and friends. I also try to get prepped for the new year. I get the house organized after Christmas so we all feel refreshed going into the new year.
How I feel after: SO GOOD! I honestly always come back with tons of ideas for the blog and social media and a huge drive. I get so burnt out on everything at the end of the year so this is always a great thing for me.
I truly think it's important for everyone to find time to take a break this time of year.
Do you give yourself any time off over the holidays?