I have done two posts before 25 Things You Can Accomplish In 10 Minutes and 30 Things You Can Do In 5 Minutes.  I personally love posts like this and I always get such great feedback. Today I have a new one for you! 25 Things You Can Do In 20 minutes or less!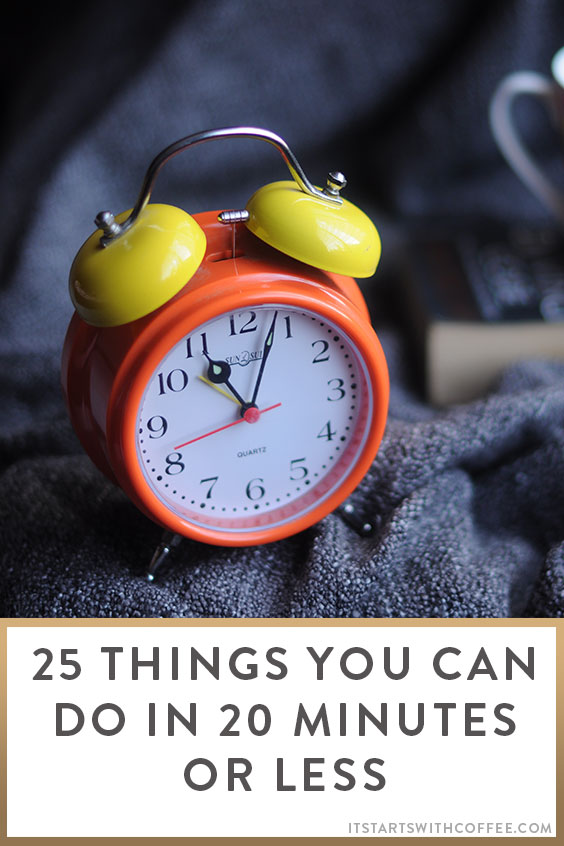 25 Things You Can Do In 20 Minutes (Or Less)
Vacuum your house
Mop the floors
Clean up one area of the house that's bugging you
Watch most of an episode of Friends
Go for a one mile walk (or run)
Do some ab workouts
Clean behind kitchen appliances
Do a closet purge
Take a power nap
Brainstorm blog post ideas
Get something accomplished on your to-do list
Write a to do list for the next day
Run a quick errand
Call your grandparents and spend some time catching up with them
Write snail mail to a friend or family member
Wrap a birthday gift
Order flowers for your mom just because
Do some yoga stretches
Reorganize a cabinet or two
Refold items in drawers or on shelves (I did all my dresser drawers in 15 minutes)
Back up your computer
Update your phone, computer, tablet, etc
Clean up your bathroom and throw out old products
Clean your makeup brushes
Read for 20 minutes
So there you have it, 25 things you can do in 20 minutes or less. These are great if you need a break from work, or if you just are bored and need something to do with yourself. I am someone who likes to be productive and I feel like these are all productive things that can be done. BONUS you feel so accomplished!
What things you can do in 20 minutes or less would you add to this list? Let me know below!