One of my favorite things to shop for is work out clothes. Not only do I love working out but I love lounging in workout clothes, running errands in workout clothes and since I work from home I usually work in workout clothes. So in case you are like me and love workout clothes  I figured I would share some of my favorites with you!
5 Favorite Workout Items: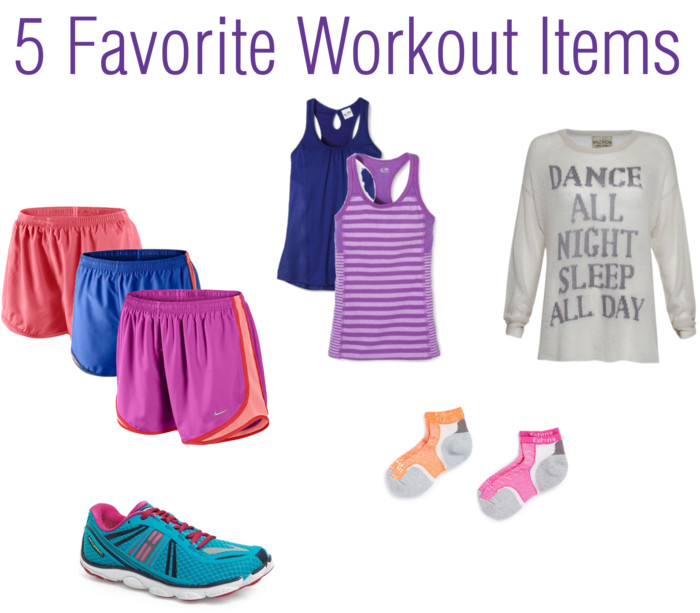 1. Nike Tempo shorts: Mind you I see teenagers wearing these they are still my favs. I am also a fan of lululemon shorts but the more practical option is the nike tempos. I have a ton of pairs of them. Most of which I bought from Nordstrom rack for a fraction of the price. They are super comfy and last a really long time.
2. C9 Champion Workout Tops: I get these at Target(also a fan of their pullovers) and they have built in bras for those of us small chested ladies. They are great for running, yoga, barre classes etc. They have tons of color and style options.
3. Pullovers: I usually wear a pullover no matter what the weather is because I get cold easily. My current favs are a few from Wildfox I have like the one pictured above. They are oh so soft and great to throw on before and after class. I also really love the Target C9 by Champion ones.
4. Brooks running shoes: For hardcore working out I have been a Brooks fan FOREVER. They are great running shoes, great for lifting and toning at the gym and for running errands. I also love Nike Free's I have a ton of them. But I am a Brooks fan through and through.
5. Thorlo socks: The only socks I like for working out. They are a little pricey but worth it. They are comfortable and hold and cushion the right parts of your foot and really do the job! I would highly suggest investing in a few pairs if you haven't before.
What are your favorite workout items?