This is my favorite time of year for sure. While I love certain things about fall, winter, and summer; spring is definitely my favorite. With spring comes the urge to spring clean! I have been on such a tangent to get our house clean and organized. Mostly because I can't stand clutter, and so many things need to be cleaned! Today I am sharing the things I am doing and 5 things you can do to get ready for spring!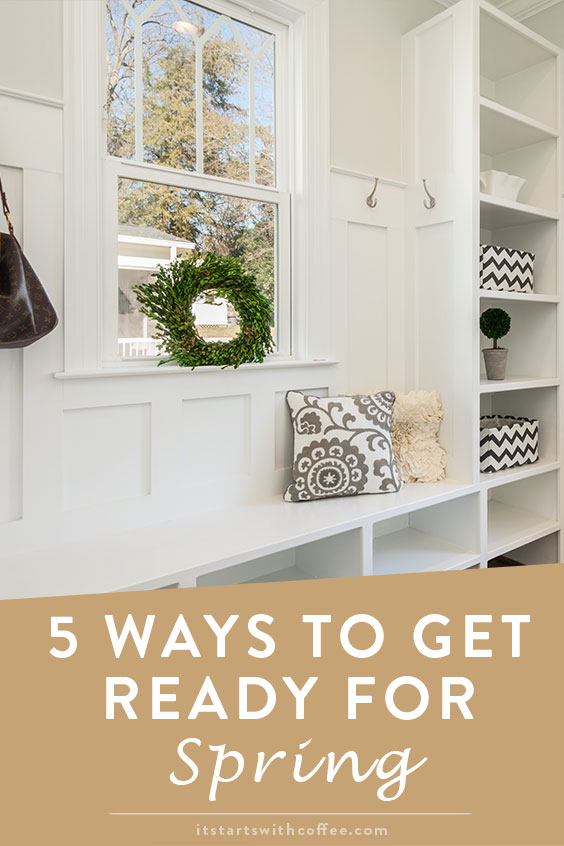 5 Ways To Get Ready For Spring
Switch your clothes out: I am really bad about having ALL my clothes in my closet at once and honestly it makes me crazy. It feels cluttered and messy. So this year I am NOT doing that. I am switching my closet over from winter to spring. In doing that I realized how wrinkled so many of my spring and summer things were. This is also a good time to steam those clothes to keep them nice for when you want to grab and wear them. I am LOVING our new CONAIR® TURBO EXTREMESTEAM® HANDHELD FABRIC STEAMER.  It's super easy to use especially for someone like me who didn't have a TON of steaming experience. It heats up really fast and holds enough water to steam a ton of clothes.
Clean linens: It's amazing how often we forget to clean our linens. We all wash towels and sheets often, but what about throw blankets? Comforters, etc. Or even to steam clean your pillows? The Conair turbo steamer is perfect for this as well! I steamed all of our blankets after washing them, the same with our coverlet and shams! Now everything is fresh and clean for spring!
Put things you aren't using right now away: For example, we have a ton of baby items, clothes Liam has grown out, etc. We have them all packed away in our attic. The same with seasonal decor, or things you just don't need right now but will need later. It clears out SO MUCH clutter!
Donate: If you have cleaned out every nook and cranny you know you have stuff you either don't and won't use or don't need. So donate it! You can get a good tax write-off while letting your unused items find new life. Win-win!
Deep clean: There are a few places in every house that can be easily overlooked: The fridge and freezer, light fixtures and fans, and of course furniture. This is the perfect time to empty the fridge and wipe everything down, the same with going through your pantry and freezer and throwing out expired foods, or things you no longer want. You can even donate foods that haven't expired but you may not use in time!
A little more about the Conair Steamer:
Advanced Steam Technology reaches temperatures up to 50% hotter*
Delivers 50% more steam for 67% faster results*
40-second heat-up – great for the gal (or fella) who may only have a few minutes to get things steamed!
3-ounce water tank for up to 15 minutes of continuous steam (I was actually able to steam all of my clothes without having to refill)
Quilted aluminum steamer plate performs like an iron for a fresh-pressed look
Built-in creaser for perfect pleats and folds (YES please Type-A over here)
Stands up on its own – easy to use and easy to store!
3-in-1 attachment:

Silicone band to pull fabric taut for better results
Delicate fabric spacer to protect trims and safely steam fine fabrics
Bristle brush to ensure steam penetrates fibers for a perfect press, even on heavy fabrics
I hope these 5 ways to get ready for spring were helpful and give you an idea of a few things you can do to get yourself (and your home) ready!
What are you most excited about for spring?
This post is brought to you by Conair. All opinions are my own. Thank you for supporting the brands that support It Starts With Coffee.