I try to lead as healthy of a life as possible. I am in no ways perfect and every day is a new day to get it right! I want to share 6 ways to stay healthy so that if you are on any kind of healthy journey these can help you.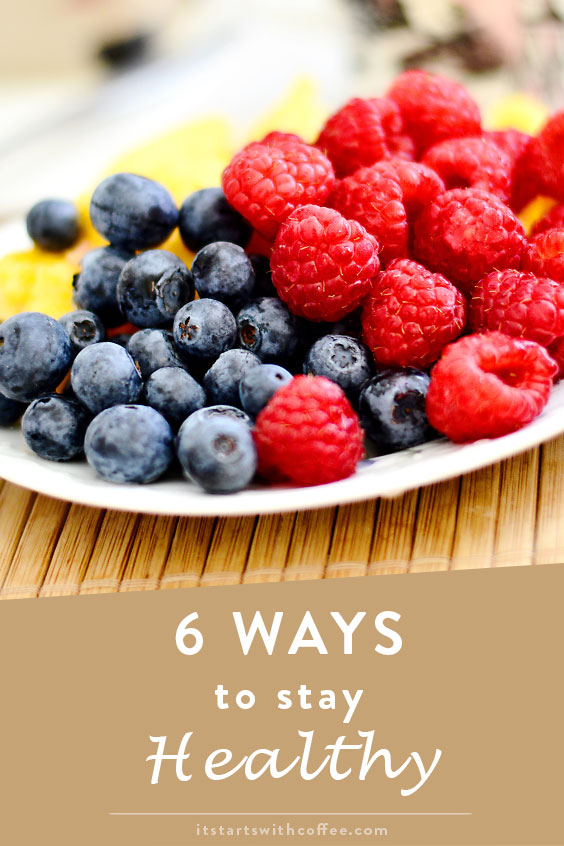 6 Ways To Stay Healthy
Keep Track: I'm not saying to be obsessive about tracking food but just keep track. Did you eat a ton of pizza last night? Maybe have a salad today. Balance is important too! Keep track of your water intake too! I LOVE the Fitbit app because I keep track of my weight, steps, water intake, and exercise all in one place.
Try New Things:  New classes, new foods, new programs if you are trying to accomplish a certain goal like toning up or losing body fat.
Move Your Body: Walk, do some yoga, go for a quick run. Try to move your body every single day. It can be so easy to get complacent and not move around much. I like that my Fitbit reminds me to do 250 steps an hour. I try to do 10K steps a day and some days it happens and some days it doesn't but I do try!
Drink Lemon Water: I have been on the biggest lemon water kick lately! I make a big Yeti full in the morning, at lunch, and mid way through the afternoon! So I have nearly around 90 oz of it a day! I have noticed my skin has been clearer and my digestion tons better!
Meditate: You may be asking why I included this a you wouldn't immediately think of this when you think of staying healthy. But as someone who struggles a lot with anxiety I can tell you that meditation does help with your health. Mental health is health too!
Give Yourself Time: Time to make mistakes. Time for self care. Time for self reflection. Just time in general. Nothing happens overnight and we are all different and require different things.
Staying healthy is SO important. I know for me effects my physical, mental, and emotional well being. I make it a priority.
What are some ways to stay healthy you use?