2018 seemed REALLY far away just a year ago. This time last year I was preparing to have my first baby and now that baby is closing in on being a year old. As I've gotten over I have learned that time moves faster and faster. The years are short! So why not make every year the best it can be? I am sharing with you 8 ways to make 2018 the best year of your life!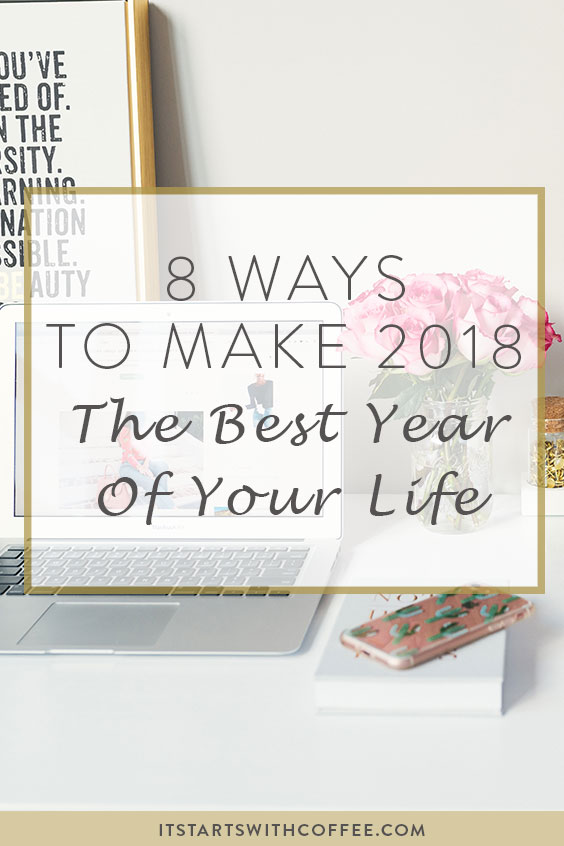 8 Ways To Make 2018 The Best Year Of Your Life
Get In Shape: January is of course the most popular month for people to join gyms and the time when gyms and workout classes are the most crowded. Usually by about March half of those people have decided the gym isn't for them. But this year make it YOUR mission to get in the shape you want. Maybe it isn't losing weight, but it's toning, maybe you want to work new muscle groups or hit a new goal. This is your year! I'm considering trying BBG so let's see how it goes!
Up Your Water: This is something I feel like I am personally always working on and anyone I talk to is as well. There are great apps you can use to track your water intake. Since I have a Fitbit I actually track it with that! All my info is in one spot which I love. This is the year for upping your water!
Increase your healthy foods: This doesn't mean go vegan or gluten free (unless you want!) Just up the healthy foods. Add more greens to your meals and go for fruits, veggies, and more whole foods for snacks. You will be amazed at the difference.
Commit to a routine: I am a routine queen. I live by them. I like to do my workouts early, I like to do laundry on Wednesday and Sundays. I am just a routine person. I love this article from Bustle about routines. I truly think routines keep me sane.
Start a Skincare regimen: January 1st 2015 I decided to start a new skincare regimen. Why? I have no idea. I just figured it was time to get very serious. I had taken good care of my skin, but not as good as I could have. I actually went to the mall on New Years Eve during the day, went to Sephora and got what I had decided to use. I am still using most of the same stuff. I do switch a few products up from time to time and have added a few more in. But generally I love things from Fresh, Origins, Eucerin, It Cosmetics, and First Aid Beauty. Maybe if you are considering finding a great routine you can check out my current one here!
If you are looking for an awesome facial- Fresh Faces in Dallas is your go to! Trust me they are THE BOMB!
Make Goals: Duh right? Of course this is going to make your year better! I have done this the last few years and I do it monthly as well. In fact you can see all of my goals posts here. I find this to be the best way to keep track big picture and smaller picture. You can make bigger yearly goals and smaller monthly ones to meet them. I prefer goals to resolutions because goals are more attainable. With resolutions I found that I was more likely to make really broad ones. This is an awesome way to make 2018 the best year of your life!
Lower your screen time: This is my biggest weakness. I am the worst. On the phone, computer and with the TV on all at the same time. I read a lot but I read on my iPad. However, I TRY not to open any other apps on it while reading. We have a TV in our bedroom, but we try to spend time before bed NOT watching TV and talking about our daily high and low and also working in our Q&A a day book. We are about to start year 3 in it which is NUTS! We love it and it's so funny to see some of our answers from years past. Those are good ways to cut the night time screen time. During the day if I feel like I've done too much I take a walk, do stuff around the house, take Liam to play outside, etc.
Save: I feel like we should ALL have this goal and we should all know this will make the year better. Save for a big trip, a new house, or just save to save. Either way find a reasonable monthly saving goal and make this year the year you save!
So how are you going to make 2018 the best year of your life?