Life is stressful. Life can have tough days. There's never enough time and we are ALL always multi tasking. Eating breakfast while we check email, eating lunch while we work. There are always 5 things going on at once. One of my favorite ways to decompress is with a face mask. I used to be afraid to use them because I have VERY sensitive skin. But after doing some research and talking with a few specialists, including my Dermatologist, I realized what I should be looking for in masks. I've rounded up my favorite face masks so if you have sensitive skin or even if you don't these would be great additions to your routine! I try to do face masks once or twice a week and it doesn't interfere with my skincare routine.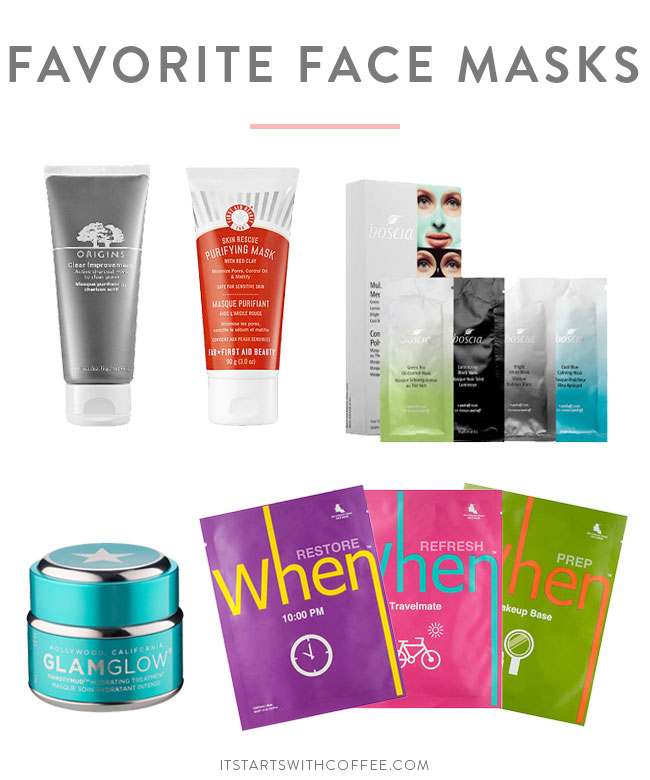 Origins Charcoal Mask: This was the first mask I bought. I love the way it makes my face feel when I apply it like I can almost feel the toxins and crap coming away from my skin but once I wash it off my face feels amazing. Thank you charcoal! The only downside is that it's kind of a pain to apply(gets everywhere) and take off(takes quite a washing).
First Aid Beauty Purifying Mask: I always say that very few things are more satisfying than peeling off a face mask. I do not know why I enjoy this so much. Am I alone? This one has red clay which is great for your skin and like I said it's a peel off mask. This is probably the one I gravitate towards most in my cabinet.
Boscia Masks: I love buying these at Sephora because you get 4 masks in a box for $18 and each little packet is good for one use. My favorite are the bright white and cool calming masks. The calming one actually makes me entirely more calm. I was having a very stressful day last week and put this mask on my face and immediately felt relaxed. Also my skin felt and looked great after. Win Win! These are great for travel as well!
Glam Glow Mask: The most expensive on the list. Here is a great Sephora hack. Go in and ask to try any of the Glam Glow or any other mask they will make you a little sample and it will give you enough for 3-4 mask uses. That way you can try it out before you spend the money! That's exactly what I did and I loved it so much I bought it. I actually bought another Glam Glow mask as well. They are both amazing!
When Sheet Masks: Oh my love for sheet masks knows no bounds. I look like a serial killer when I have them on but they make my skin super soft and moisturized. They do not require anything to wash off(you just take the mask off and toss it) and you do not need to wash your face or moisturize after. I have seen people do these on planes(it's kind of scary so please do not). I do travel with them because they are great for your skin post flight. I love the variety because there really is one for any one of your needs. FOR SURE check these out!
If you are not a face mask person or haven't found your favorite face mask yet keep looking. Try a few of these(use my Sephora hack) and let me know what you think!
If you are a face mask person what are your favorite face masks?