Having 2 kids under 3 and trying to work out, or really do anything, sometimes requires some flexibility on where, when, and how. People ask me a lot how I work out at home with a baby (and a toddler) and I want to share a few of the tips I have. Since I know so many of you are moms or moms to be!

How I Work Out At Home With A Baby
Keep them occupied: The great thing about Charlotte is she isn't mobile yet! When I work out while she's not napping I usually stick her in her Baby Bjorn bouncer or her Skip Hop activity center. The bouncer has a great toy bar you can buy to keep them occupied as well. She also LOVES her play mat but most of the time loves to be upright so she can watch what's going on.
Set expectations low: Sometimes your baby is NOT going to be content just watching. Sometimes they will cry, need to be held, need to be fed, etc. One thing that has helped me a ton is just keeping my expectations low. It may take me 60 minutes to do a 30-minute workout. Sometimes I will have to hold Charlotte while I do ab work. She makes an excellent 14 lb weight.
Ask your partner for help: I make it pretty clear to Andrew when I need help and try to work out when I know he's free but with him working from home too it just doesn't always work out.
Have fun: When all else fails. Have fun. Charlotte loves to watch me work out but she also loves to play on my yoga mat and sometimes that's just what the workout turns into at least for a little bit. I make a lot of silly faces during workouts to keep her happy, and we do a lot of singing silly songs. But the workout gets done and we are both smiling. That's what really matters.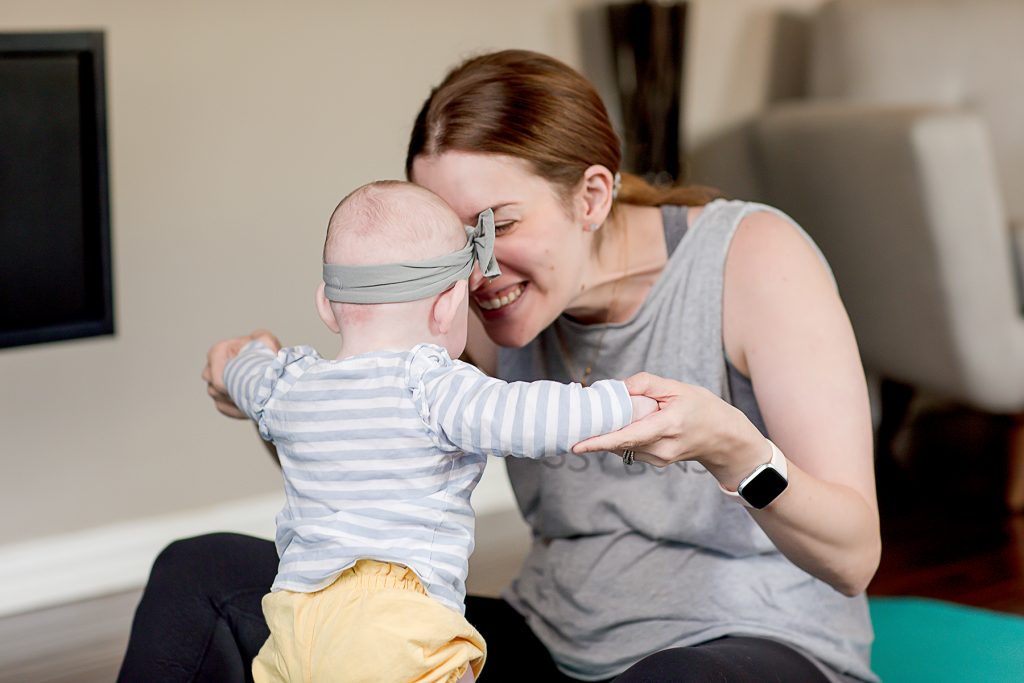 If you are trying to work out at home with a baby, good for you mama. It's both fun and exhausting right? buybuyBABY can help keep your kiddo occupied while you get those few minutes of you time. There is such a great range of activity centers, bouncers, playmats, and toys you can grab to keep them happy so you can get done what you need done.
Thank you to buybuyBABY for partnering on this post. Photos by Jenny Havens Photography.