In December I was tweeting about how I scheduled out 40 blog posts. I got a response that got me thinking: Sarah from Back To Carolina told me I should do a post about that! Well Sarah, your wish is my command! Knowing our baby was due in February, I got a lot of questions from friends and family about how I was going to balance a newborn and my blog, was I going to still blog, how would I do it? So when I was about 4 months pregnant I started a list of topics to write about. Most of them were things that were NOT time sensitive, meaning I could easily write about them in advance and easily move them around if I needed to. So I am going to tell you exactly how to schedule 3 months worth of posts ahead of time.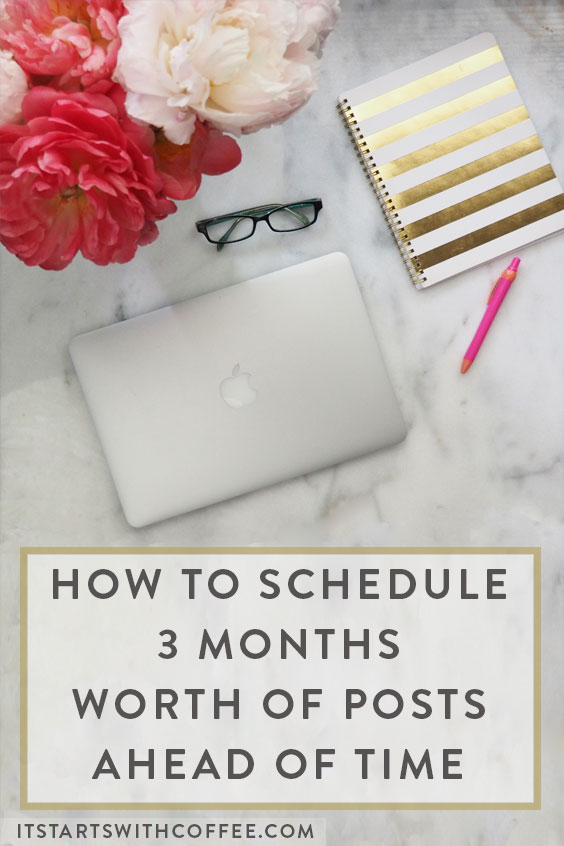 How To Schedule 3 Months Worth of Posts Ahead Of Time
Brainstorm: It started with lists. I just started writing down ideas as they came to me, and when something felt like it could go in the February-April column that's where it went. Keep in mind I was still writing current posts from Fall/Winter during this time. So it was like double planning. My fall winter editorial calendar and my spring editorial calendar. I had about 50 ideas come really easily and the rest took a little time and inspiration.
Graphics/Photography(backdrops): Once I had post ideas and titles it was time to make images. Just like the one in this post. Thankfully I have a super amazing husband who makes my graphics and images for me. So I gave him a LONG list and he tackled it for me. I am someone who writes better when my images are done. Collages are a little more time consuming, so those took the longest.
Plan: This part of planning was taking all the post ideas and figuring out when I had the time to write them. I made myself an initial goal of 10 posts a month. Truthfully I was done in December. My original goal was to have all February, March, and half of April done. Well in December that was done and when ideas came to me and I had time I just kept writing. So I ended up with a lot more posts written than I had intended which made my stress level go way down!
Schedule: Once I started writing the posts I had to figure out when and how to schedule them. I knew I didn't want similar posts the same week. Meaning not two blog advice posts, or beauty posts, or fitness posts. I also knew that I wanted to leave space in for sponsored content. Since sometimes I know about sponsored content far in advance the projects I already knew about were easy to schedule in. But I left days here and there for opportunities that always come up. So I scheduled non-sponsored content 3 days a week and left two days open for either sponsored content or for a life update type post. As I wrote posts I kept my editorial calendar tab open to check items off and make sure things were scheduled where they need to be. The best part is that most of these posts can be easily moved around so even if a date needs to be for something else I'll just move a post! Once it's written that part is easy!
Write: Then I actually had to sit down and write them. I gave myself a goal of 10 a month like I said and tried to write either a current or future post every day. Some days I wrote more and some days were busy and I wrote half a post or less. After a post was written, with graphics done, and scheduled it got marked off the list as complete. SEO was done, categories and tags were done etc.
Learning how to schedule 3 months worth of posts was very trial and error. But I am so glad I did it! It was really nice to look at the number of scheduled posts go up and up and up. I knew that even if this baby came a week or two early I would be set. Plus it would give me time to focus on my new baby and adjust to my new life knowing that posts were still going live 4-5 times a week as usual and that I had content up. I did not want to not have content. One of my main goals with my blog is consistency and I wanted that to still be there. But I also wanted to have a maternity leave of sorts.
Best of both world accomplished!
If you enjoyed this post, I would love if you saved/heart it on Bloglovin' and check out my other blog advice posts!