Happy Happy March! I feel like the year is FLYING by! Liam is one year old now, and we are hopefully on our way to spring! Before I get to my March 2018 Goals I want to share how I did in February.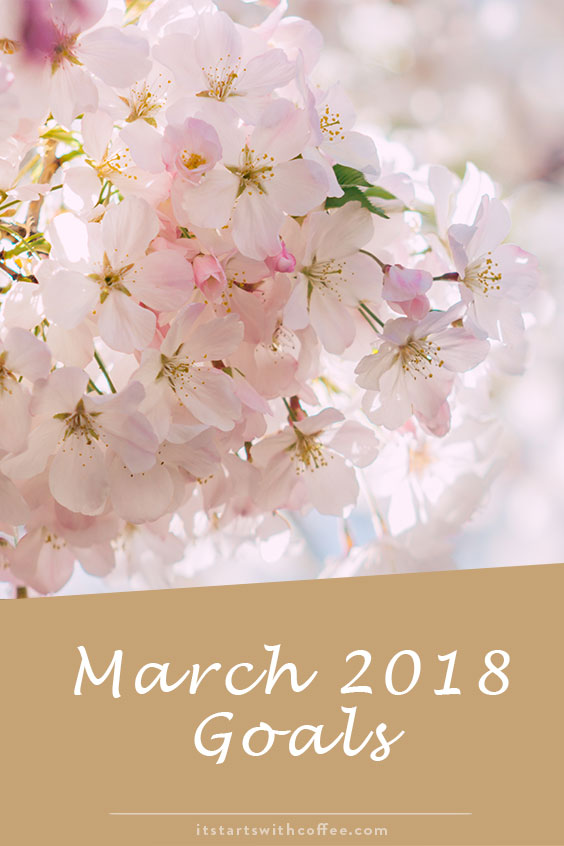 March 2018 Goals
In February I wanted to…
Write thank you notes for Liam's bday gifts– Yes I had this done 2 days after!
Organize Liam's toys and purge/put in storage– Yes and no. Toys are organized but I am having a hard time purging.
Read 4 books. I read 7! I have no idea what got into me but I hardly watched TV and honestly just read for like 2 hours every night.
Have at least one date night with Andrew (Not Valentine's related)– Liam got sick early in the month and sadly we did not get a date night in.
Take Liam on a fun birthday day adventure– we took him to the Aquarium and out to lunch!
Get my summer editorial calendar started– Yes I have so many great posts coming!
Do something special for my parents even if it's small– I have something planned for my mom's birthday next month!
Focus more on daily meditation– Yes I meditated ALMOST every day in February!
Continue to up my water intake– Yes doing so much better!
Focus more on yoga practice and consistently attend a class weekly at my gym– I found a class called ROOT and I have been going every Saturday this month!
In March I want to…
Read 5 books
Go on two dates with Andrew
Figure something special out for Andrew's birthday
Celebrate my grandfather turning 94!
Work on Summer post ideas more
Reach 22K Pinterest followers
Purge/put in storage Liam's baby toys
Wean Liam off of bottles completely
Go to Yoga 4 times, Barre 4 times
Go on more walks when the weather permits
What are some of your March 2018 goals?