I don't know why but lately I have been on a "get rid of all the things" bandwagon. I am striving to become more of a minimalist and I wanted to share the 5 things I am personally doing to become more of a minimalist that .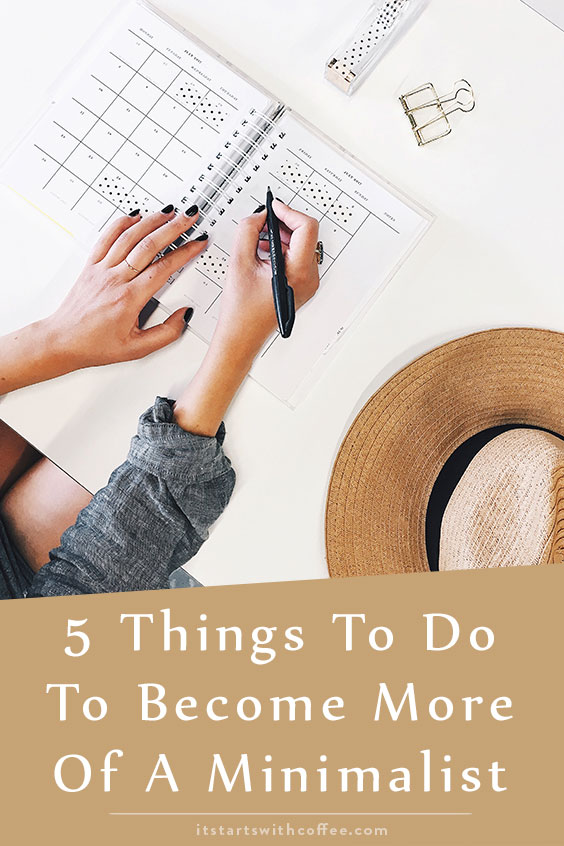 5 Things To Do To Become More Of A Minimalist
Do You Need It: So not only does this help you become more of a minimalist but it really helps save money. Do you really need it? Is it a purse or shoes or another book or mug? Do you REALLY need it? If you feel like you really do maybe you can donate or sell one you already have.
Have You Used It: This I do with clothes especially. Have I worn it in the last year? Is it a classic piece? If it's classic and I haven't worn it I will keep it. Otherwise, if it's something I haven't worn, I will sell or donate it. The same can be said for other random things around your house that won't get used, such as kids toys, books, etc.
Do You Have Similar: Do you have 10 white long sleeved shirts? You probably don't need another one and you can probably pare down the ones you have. Does your kiddo have TONS of stuffed animals they never play with? Probably get rid of a few.
Is it necessary: Is it a necessity or something you really have to have around? Do you ever use that food processor? Get rid of it, it's been sitting in your closet since your wedding. OK maybe that was just us.
Is There Something Else: Is there something you'd rather have instead? That's a good question to ask. Do you want to buy this now or something else later?
There are tons of other methods, ways, etc, these are just the ones working for me personally to try to become more of a minimalist.
I would love to know what you do to become more of a minimalist?