I love to workout but I know that's just not true for everyone. I have some friends who hate it and do it just to do it, but if I didn't love it I don't think I would have stuck with it. Sometimes all it takes is a fitness routine refresh! So today I want to share 5 ways to refresh your fitness routine!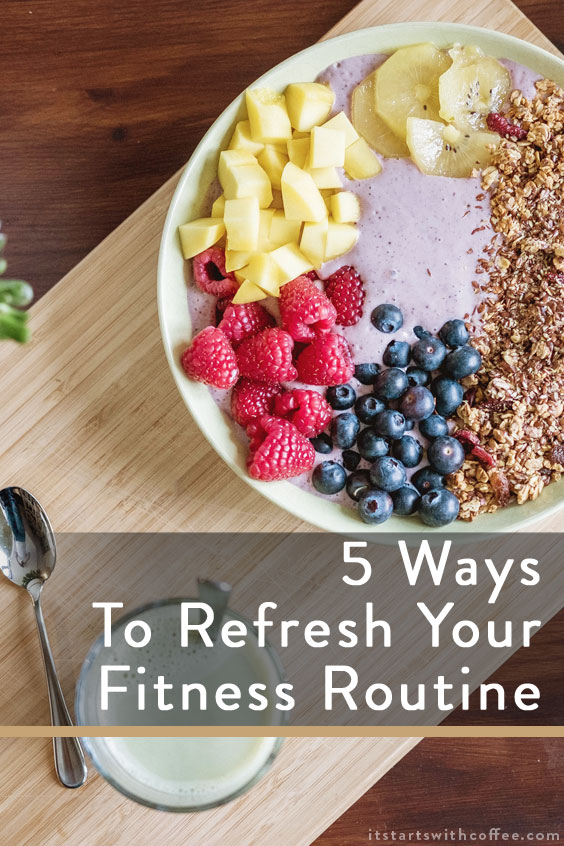 5 Ways To Refresh Your Fitness Routine
Try a new class: Nothing is more fun and scary than a new workout class! I love trying them out but I know they can be a bit intimidating. My biggest tip for this is to do your research and go early! I always show up to a new class/studio 20 mins early. You usually have to sign a waver and someone can show you the equipment and give you a tour. It really takes the nervousness away.
Have a friend to workout with: Another great thing if you are intimidated or if you just need to refresh your fitness routine is to have a friend workout with you! I personally like to workout alone but for classes I love having friends come! It's so fun to have someone to commiserate with if it's tough or just hang out with!
Buy a new outfit: Nothing like buying a workout outfit that makes you feel incredible right? Go treat yourself to a new look! It doesn't have to be expensive just has to make you feel great!
Take a different path… literally: If you are a runner try a new trail or path! Or even for walking! Sometimes a change of scenery and a new challenge gives you all the refresh you need.
Invest: In yourself! Maybe some new sneakers or a cool bike like the Pelaton so you can do your workouts at home! Or maybe it's a membership to a gym or fitness studio! But if you are serious about working out these are great things to invest in.
I hope you found these ways to refresh your fitness routine helpful! What do you do to refresh yours?