Do you ever feel like your world is full of clutter… both mentally and physically around you? Too much of "things" aren't good for any of us. Today I am sharing 55 things to get rid of right now to make your life a little bit less cluttered. Remember, a lot of things you can get rid of like clothes and household items can be donated to charities! So when you get rid of things, take stock of them being able to be used by others. DONATE!
55 Things To Get Rid Of Right Now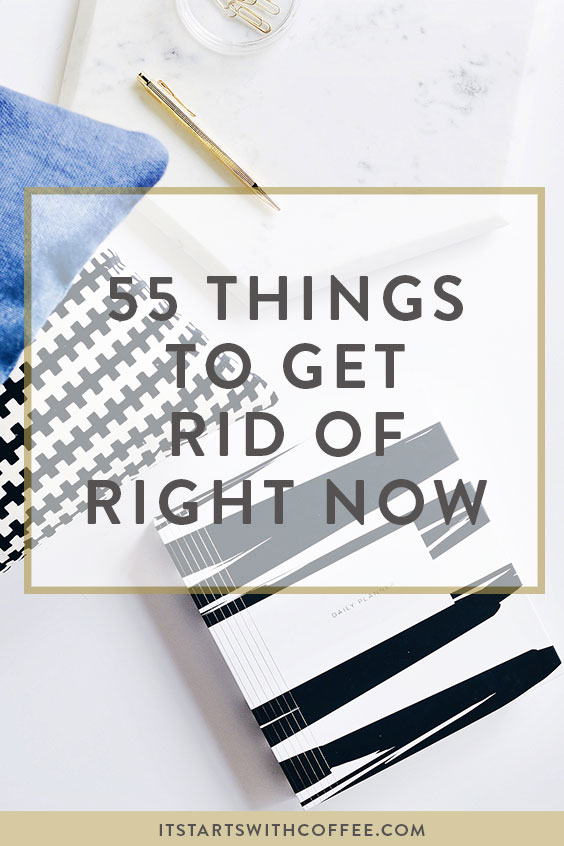 Phone numbers in your phone you will never need again (read ex-boyfriends)
Clothes that you will NEVER wear again
Those jeans you are saving that are 3 sizes too small
Old makeup
Expired food in your pantry and fridge
Anything that upsets you to look at (unflattering pics, sad letters)
Ridiculously worn out shoes you won't wear again
Old toiletries
Things with trans fat
Random VHS tapes (transfer them to DVD or a flash drive)
Half written in notebooks/notepads that you don't use
Kitchen stuff you don't need that are taking up space
Ratty blankets
Old towels
Toys your kids DON'T NEED or play with
Clothes your kids have out grown (especially if you aren't having anymore)
All the stuff in the coat closet on the floor (maybe this is just me)
Anything in the linen closet you haven't touched in 2 years
Sheets you won't use again
Any half used but will never use again product
Anyone not bringing positive vibes to your life
Things that need to be shredded (upload them to google drive!)
Expired credit cards (cut them up)
Old receipts in your purse
Those shoes that hurt your feet
Baby announcements of babies that are now over a year old
Photobooth pics stuck in a drawer you don't want to keep
Half of the million koozies you don't use
Anything broken that can't be fixed
Things you've replaced
Decor you don't use
Holiday decorations you don't use
Those magazines you'll never read
Perfume samples you'll never use
Old calendars
Old planners
Old phone cases for phones you no longer have
Random wires stuffed in drawers from items you no longer use
Paperwork from college, student loans, etc that you could have digital
Old business cards
Stuff that just looks gross
People on social media who upset you or make you feel less than (unfollow)
Anyone on social media you wouldn't wish a happy birthday to (literally how I remove people from Facebook-sorry not sorry)
Half used candles you don't really like
Half the mugs in your mug collection you don't need or use (donate them)
Same with the shot glass collection from college
Junky refrigerator magnets
Random tumblers, to go coffee mugs etc you don't like or use
Any promotional item you got in a swag bag you know you'll never use
Tote bags you don't need
Travel bags/suitcases that are broken
Broken glasses/dishes
Old car insurance, random stuff in your car you don't need
All the water bottles half empty rolling around your car
Anything in your garage that is not useful
Do you agree with these 55 things to get rid of right now? What would you add to this list?