As you know, the first week in February Andrew and I were so lucky to spend a week in the Bahamas and Virgin Islands with Princess Cruises. A big part of that week was that three of the days were port days. I previously wrote about how we spent our days at sea, but the days at port were a completely different story. How to pick and plan a day at port was something very new to us, and honestly at first we really didn't know where to begin. Thankfully I married a man who can research the heck out of anything. Today I am sharing our tips for how to pick and plan a day at port.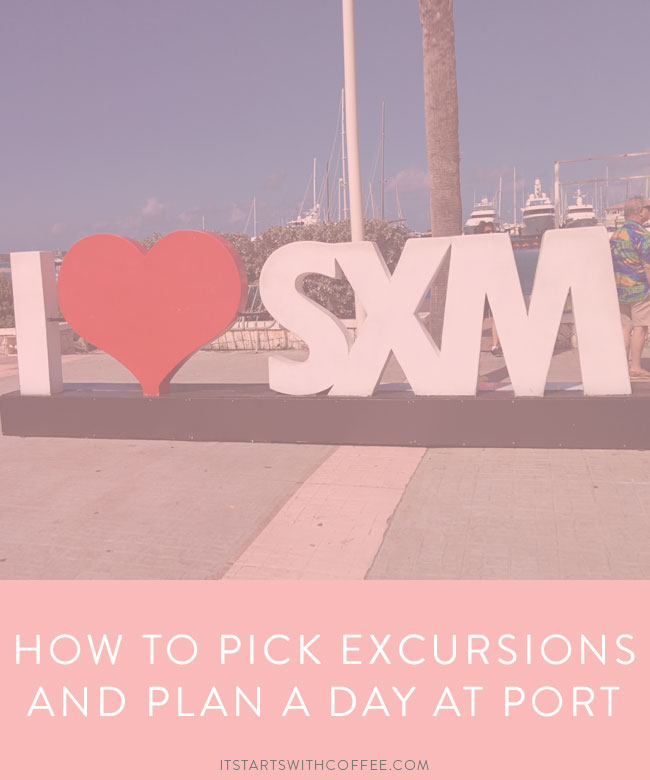 Step 1 – Know Your Location: We knew that we would be visiting Princess Cays, Bahamas, St. Thomas, and St. Maarten, so we knew where to start. We also knew how long we would be there. Meaning that we knew what times the ship was docking and what time the ship would be leaving the port in the evening. This is helpful in being able to decide how far out you can go and how many activities you can do. We also research different aspects of each location. Were they more beach focused? Were they more intense activity focused? Tour focused? etc. Once you know a bit about your location you can feel confident enough to go to Step 2.
Step 2 – Research The Excursions: You can book a variety of excursions through Princess Cruises for each port. Once you have your trip booked through Princess you have an account and access to a reservations portal where you can book beverage packages, spa visits, dinner times, and excursions! So you are able to see every single excursion available to you through Princess. This is a huge help and time saver. From here you can research the types of excursions they have. You can see the amount of time each excursion is and figure out your day that way. It was nice being able to book our excursions directly through Princess so we didn't have to worry about finding third-party companies and worrying about where to go, how to handle payments, and if they were reputable. Another thing to check is to see if the cruise ship docks directly at the port, or if they use a tender (one of the small boats on the side of a ship that ferry passengers to and from the port). In ports that require the use of a tender, make sure to account for extra time as there may be lines to board back onto the cruise.
Step 3 – Decide Your MUST DO/SEE Activities: So for me, one thing I absolutely wanted to do was go paddle-boarding. For Andrew, he wanted to go the Magens Bay in St. Thomas. For these MUST DO activities it was really easy to plan those days. This was especially helpful since both things were offered through Princess Cruises! Once you decide the things you HAVE to do it makes planning simple.
Step 4 – Make Your Decisions: For Princess Cays (a private island owned by Princess Cruise Line) we booked a locker for our valuables, floats for the water, a clamshell to relax in, paddle-boarding, and water bikes! We knew we wanted to spend most of the day relaxing and enjoying the water. Andrew also brought his snorkel gear so it was easy for him to go right from the beach to snorkel. We also knew it would be the perfect place to try some new things, like paddle-boarding and water bikes! (really wish I had pics of us doing that!) For St. Thomas, Andrew really wanted to snorkel in Magens Bay and I wanted to lay in a chair and read. After we researched everything it made those decisions so much easier to make.
Step 5 – Pack Accordingly: I had a crossbody Lululmeon bag that I brought on the trip specifically for port days. It was durable, had lots of pockets and is super easy to clean if it gets dirty! We also loaded up on bug spray since you know the Zika Virus is everywhere right now! Sunscreen, sunnies, a hat to keep my face safe from the sun, an extra tank top and shorts, and bottles of water. I also took my iPad so I could read on the beach. Make sure you take what you need and nothing more. We also took our ship cards (how you pay for everything and enter and exit the ship and your room), a little bit of cash and a credit card. It's also really important to bring some form of government ID as some ports require it to get to the cruise docks. Other than that we really didn't take much!
Knowing how to pick and plan a day at port becomes much easier after you research properly. I hope these tips are helpful if you are planning a cruise in the future. We are really looking forward to our next cruise and more ports and excursions!
Fore more cruise life posts see:
What a cruise taught me about marriage
How to make the most of a day at sea
7 Things No One Tells You About Cruises
Chefs Table Lumiere Inspired Ceviche Recipe 
This is a sponsored post in partnership with Princess Cruises. As always all thoughts and opinions are my own. Thank you for supporting the brands that support It Starts With Coffee.