If you have been following my blog for a while you probably hear me talk about some of my favorite podcasts. I have even been a guest on one. Granted I can't bring myself to listen to that episode. HA! I get a lot of questions about what podcasts I listen to and what my favorite podcasts are, so I figured I would dedicate an entire post to that!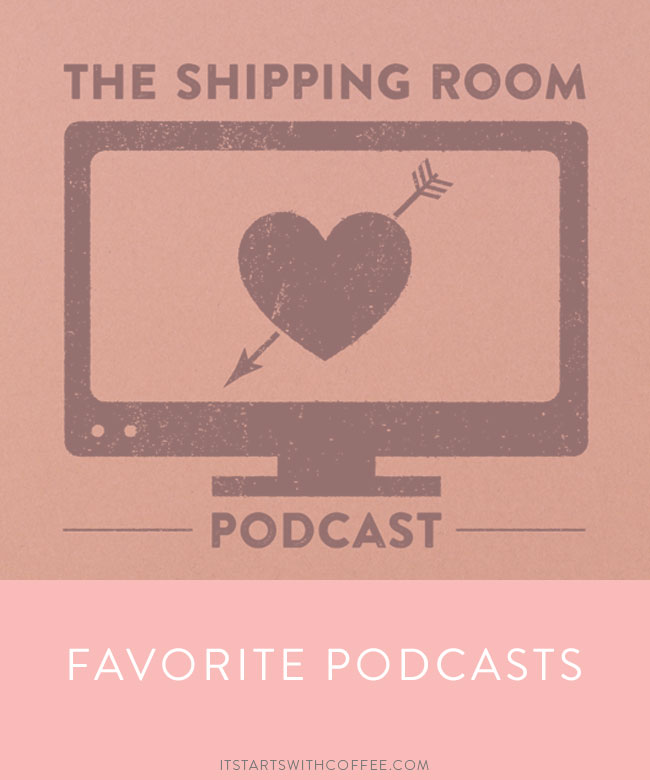 The Shipping Room: Once upon a time last November I was a guest on the Shipping Room. Since then I have actually become really good friends with the two geniuses behind the show. Have you ever talked to any of your friends about which couples on TV shows you love, hate, want to see happen? That's basically what this show is. They cover different shows and different shipping topics. It's really freaking fun!
Carrie On: I love Sex and the City, and if you did or do then you will love listening to Kat and Alec and their awesome guests chat about each episode. Seriously when I discovered this podcast I binged all the episodes they had released to that point in a week. I get way too excited when I see there's a new one to listen to. Plus, Kat and Alec are #relationshipgoals
The Lively Show: I had to throw in this podcast because anytime I need a motivational boost I listen to it. It's really great and Jess is so interesting and personable. You honestly feel like you're listening to a good friend talk.
The Blaze: One of the first podcasts I got hooked on. The Blaze with Lizzie and Kat goes through each episode of the original Beverly Hills 90210 and it's pretty amazing. I wrote more about it here.
Gilmore Guys: If you haven't heard of Gilmore Guys I assume you've been living under a rock. Two guys one who loves Gilmore Girls and one who is watching for the first time analyze every single episode along with awesome guests, live shows, and pop culture references galore. You must go listen!
Best of Friends: I discovered Best of Friends as I did a lot of my podcasts, when they were guests on The Blaze. This podcasts goes episode by episode through the Friends series. I listen to it a lot at the gym and I get a lot of weird looks from laughing so hard on the elliptical.
Creek of The Week: I am a die hard Dawson's Creek fan, and if you loved Dawson's then you will love this. Two guys who each week pick a random episode of Dawson's Creek (in no particular order) and provide live commentary while they watch. It's all kinds of amazing. It helps that they are both clearly #TeamPacey.
First and Final: This was a really random discovery one night. It's a brother and a sister who each episode pick a new TV show. They watch the first and final episode of the series and discuss. It's super fun. They have done such shows as The West Wing, Friends, Gilmore Girls, Parenthood, and Friday Night Lights. Hands down one of my favorites to listen to.
Worst Friends Forever: This is a newer to me podcast. My friend Tamar (one of the hosts of The Shipping Room) told me about it and it's three best friends who talk about different topics each week. One week it may be Jane Austen books, and one week it might be House of Cards. Usually a Gilmore Girls reference thrown in and some side stories. They are seriously hysterical.
ShePod: This is a super new one to me. It comes out on Sundays and is designed to be like a "brunch with friends" type podcast. They have lots of random discussions and it's really enjoyable.
Brandi Glanville Unfiltered: Yeah I'm embarrassed for myself too. But one episode of Brandi and Leann Rhimes ex, Dean Shermet talking about their divorces and I was hooked.
Gossip Guys: Similar format to Best of Friends, The Blaze, and Gilmore Guys, it's two guys talking about Gossip Girl. It's really fun because one of them has never seen it before. The two guys are freaking hysterical!
Reality TV Podcast: I am a self proclaimed reality TV junkie. I have a problem. The more stupid the show, the more likely I am to watch it. Jenny and Pete who are hysterical talk about all my favs: Teen Mom, Survivor, Vanderpump Rules, Real World, Mother Daughter Experiment, and more. I have no idea how I found them, but I am so glad I did!
So those are my favorite podcasts. There are some others that I listen to randomly but these are ones that I really look forward to each week! I would love to know what some of your favorite podcasts are…