After I had Liam I went into high gear on a healthy lifestyle. With that came some new things that have become an everyday part of my life. My healthy lifestyle essentials, if you will. I wanted to share my favorites with you guys if you are looking to kick start a more healthy lifestyle yourself!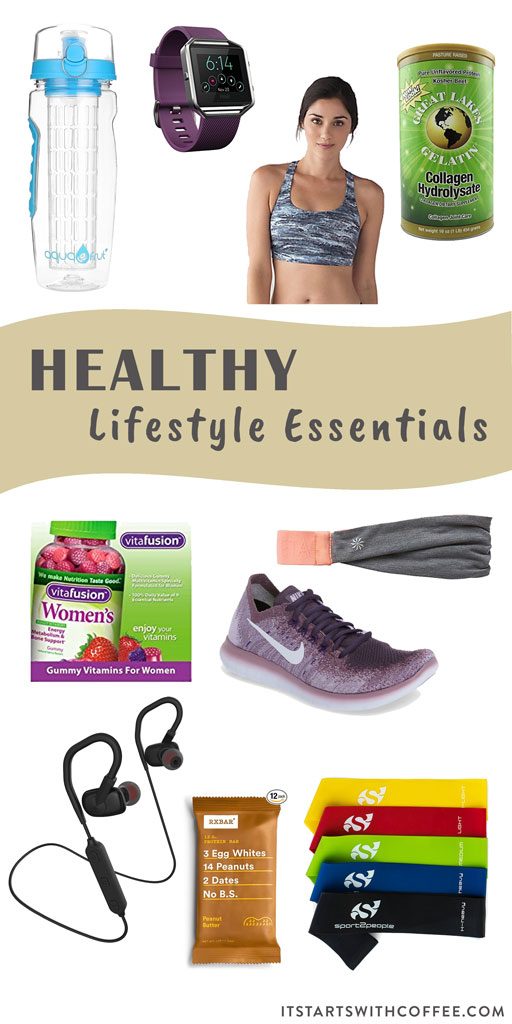 Healthy Lifestyle Essentials
First of all I am OBSESSED with fruit infused water. It really makes drinking water so much more appealing, and if you are craving something a little sweet it does the trick. This bottle makes it so easy. The center fills with your choice of fruit and then you fill the water on top! My favorite combo is pineapple and cucumber! YUM!
I got a Fitbit Blaze while I was pregnant but I did not become quite as obsessed until after I had Liam. I don't like to compete with others for steps, but I do compete with myself. I don't think I have had one day less than 10K steps since March!! Even if it's 9PM and I need 1000 steps I will walk around my house! It's a great way to get exercise in even if you can't do a workout. 10K steps is usually about 4.5 miles!
The Lululemon Energy bra is my favorite sports bra. I have about 7 and I wear them every single day. So comfy with just enough coverage.
I spoke about collagen in a previous post but this particular collagen I get on Amazon. They even have to go packets perfect for travel or to take to work!
I have mentioned that I take hair, skin, and nail gummies. I actually take the ones mentioned here!
My favorite shoes are Nike flyknits! I got this pair during the Nordstrom sale and BONUS they are still on sale AND $30 off!!!
A good headband is key for me. I have thick hair and those pesky post partem baby hairs require a headband to keep hair out of my face during workouts!
I am not someone who needs fancy ear buds but I do keep a pair in my car and in my purse for the gym or walks! Cheap ones do the trick!
Currently my favorite go to snack are RX bars. I like the regular chocolate chip, peanut butter, and the kids chocolate chip are my FAVORITES! Those to me are the perfect serving size for what I need!
These bands are awesome for at home or travel workouts. Great to do squats and lunges with!
What are some of your healthy lifestyle essentials!?