I feel like the last week of life has felt like months. Liam left school Wednesday to start spring break early (the teachers had a conference) and now we are out of school till the end of the month(at least). Andrew is working from home till further notice, and we aren't leaving the house much at all. Social distancing is the phrase right now and it's the cool thing to do. If you are like me at first you probably thought to yourself; "oh god I can't leave the house for weeks? Im going to lose it!" So I want to share how to not lose your mind during social distancing. Later this week I will have a post up on things you can do with your kiddos so they don't drive you crazy!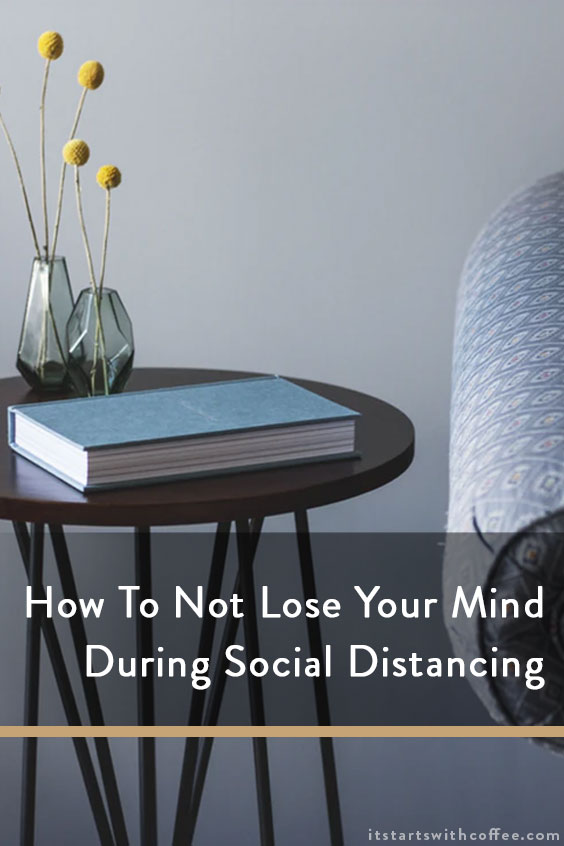 How To Not Lose Your Mind During Social Distancing
Hang out with your TBR pile: I have such a long list of books TBR(to be read) and I can't wait to dive into them. I mean listen we are all home, and reading will give you such a great mental escape. Plus it's better than just zoning out in front of the news 24/7.
Catch up on shows: But if you need a TV break it's a great time to binge watch some shows. We started back up with Jack Ryan and I plan to watch the most recent season of Stranger Things next. Here are some recommendations if you are looking for a show to get into.
Take advantage of at home workouts: One of my first realizations of change was not going to the gym. Working out is my mental escape and I will really miss my gym. But we live in a world where at home workouts are LITERALLY at our fingertips. My barre studio is offering 60 days of barre at home. Pelaton has discounts, there is OBE fitness, Aaptiv, and so many more! Youtube has TONS of free workouts too. This is my absolute favorite Yoga channel on Youtube.
Have a virtual coffee date with friends/family: Thank god for FaceTime am I right? I plan to have lots of FaceTime dates with friends and family to stay connected and sane. Grab some coffee and make a plan with a girlfriend to have a coffee chat over FaceTime.
Get those house projects done: This is one thing we are absolutely doing! Lots of things we have been wanting to do around our house are about to get done and I can't wait!
Get ahead on work: This may not work for everyone but for bloggers this is a great time to get ahead on blog post, social media posts, editorial calendars, etc.
Enjoy the extra bonding time: I am stuck at home with my husband and sweet babies and I am very much looking forward to the extra time with Andrew and Liam (I'm always with Charlotte) and doing things with Liam like puzzles, crafts, and playing outside.
Learn some new recipes: The grocery store didn't have what you wanted? Try some new recipes with things you have or things you are able to find. Or just try new recipes just because! It's a great time to get creative in the kitchen!
I hope this gave you all some ideas of how to not lose your mind during social distancing. This is a tough time in our world and everyone is on edge and scared. Please be kind to those around you. Check on parents and elderly neighbors. If they need stuff try to help. Stay inside as much as possible and check the CDC website for the most accurate information. If we follow social distancing we will all be better off!