Happy 2017 friends! Did you do anything fun for new years? We of course stayed home because #homebodies. I actually got a really bad cold on NYE so I rested, Andrew cooked an AHHHMAZING dinner, and we watched New Years specials and went to sleep early. But bonus, I wasn't hungover yesterday, so that's a win. You guys this is my last full month to be pregnant! In less than 7 weeks our baby boy will be here and HOLY CRAP. Anyways, today I am sharing my January Goals and also reflecting on how my December Goals went. I did have a 2017 goals post last week but I like to also have monthly goals.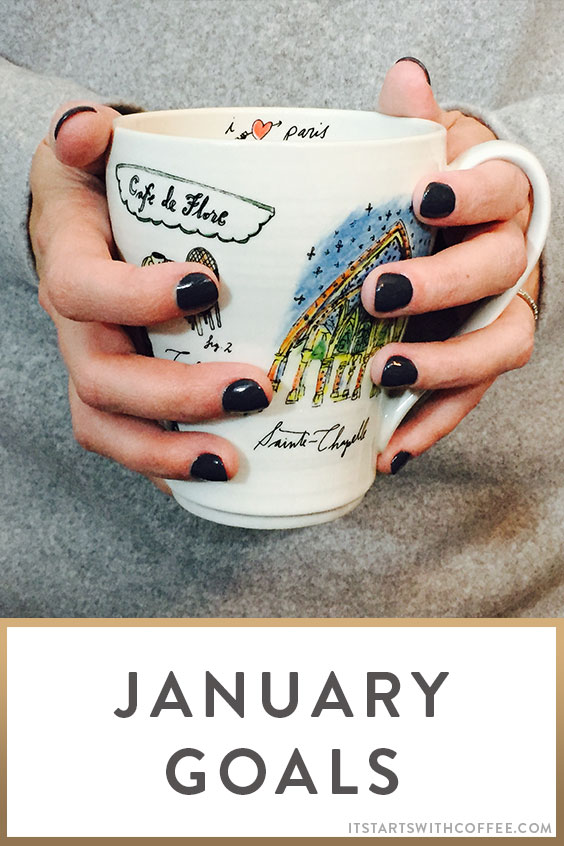 January Goals
In December I wanted to….
Read 4 books. I actually read 5. I had a lot of downtime because I've been told to rest more.
Get the rest of our pre baby list done. We have a lot of it done. I have my BIG baby shower this weekend (EEEK) and we have a shower at Andrew's work this month. So after that we can assess what we don't have and need to get before baby boy comes.
Start assembling a few baby related products. Yes we have assembled the stroller, car seat is installed (in case he arrives early), and some of the other stuff we already had.
Wash all of the baby clothes, towels, and blankets we have so far. Yep so far all done.
Write 10 more posts for February and March. Y'all I am on a roll. I have OVER 40 posts banked! I am so excited about this!
Enjoy the holidays without being stressed. Yeah fail. But it was good stress.
Cut myself some slack at the gym. I am in my 8th month of pregnancy and I have worked out at least 5 days a week the entire time but I need to rest more. Umm I still went all month aside from 2 weekends where we had stuff going on. But I have slowed way down.
Work on tax stuff. I have started to get some together but not nearly as much as I'd like.
Donate items around the house, food, and take Christmas gifts to the kiddos we chose from the tree. Yes we did this and we adopted two kiddos and got them some fun things for Christmas.
In January I want to…
Soak in the last month of no baby by having more dates with Andrew, and having some good solid alone time. I foresee some alone movie dates (my fav) in my future.
Read 5 books
Continue to eat healthier
Try to workout 3 times a week. I think that 5 is kind of silly at this point but I would love to do at least 3 days of workouts.
Get the things we need for baby boy and have all stuff assembled
Write all my shower thank you notes before the end of the month
Pick out birth announcements (will choose a photo later obviously) and update Minted address book to make that part easier
Write 10 more posts to bank for February, March, and April
Spend some time with my parents
Nothing too crazy I don't think. I was really pleased with my December progress and I hope my January goals go well.
What are some of your January Goals?