I think universally everyone agrees it's been a weird year so far. I was not someone who had unusually high hopes for the year as I had a brand new baby and mostly just wanted to survive it. But, with all the uncertainty of COVID-19, and being at home 90% of the time save for necessary errands, Dr appts, and walks/trips to the park I have noticed some upsides to this crazy year.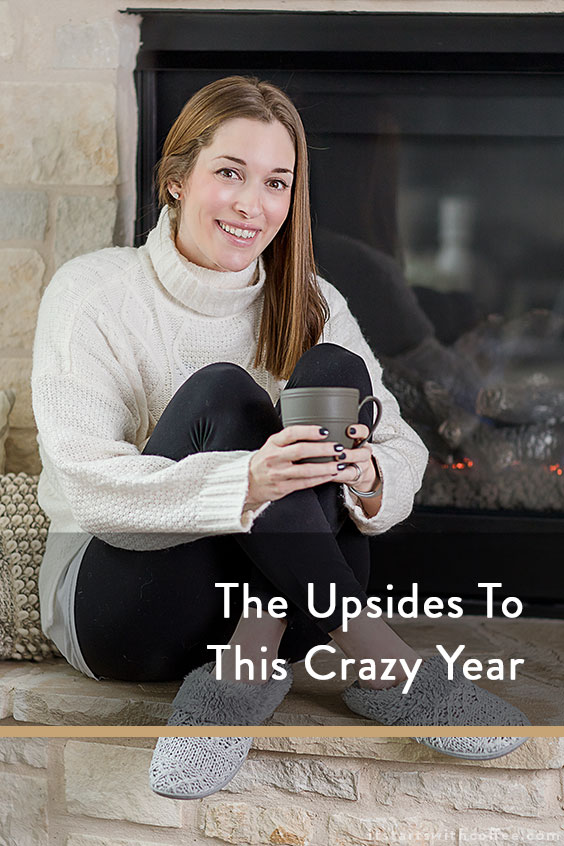 The Upsides To This Crazy Year
More time as a family: Liam's last day of school was March 11th. We went to Houston the next day for the weekend and came back to a city basically shut down. I remember thinking "how will we survive two weeks of this?" Ha. The joke was on me because over four months later we are still here. (wear a mask!) But we have spent a ton of time as a family. We do movies together, bake, play, swim, etc. Andrew and I have spent way more time together too and even though we can't really have traditional date nights (we choose to not eat at restaurants right now even though they are open) we have loved our time together at home.
Organization: One thing I have done with Andrew's help is to try to get things organized around here. Our office for one has been a disaster. Even though it was set up with Andrew's desk and computer until he was work from home full time it was never used as an office and mostly as a storage room.
A focus on the important: It's amazing how quickly you realize what is not important. For me that was going to restaurants, malls, play places with my kids, etc. I used to feel as though these were important and they just aren't.
A focus on strengthening friendships/family relationships: Nothing makes you value friends and family more than when you can't see them!  I started Marco-Poloing with friends throughout the day, FaceTiming with friends and family a lot, and more. I used to not be someone who enjoyed talking on the phone and I do it way more now.
Realizing what we DON'T need: I mean we don't need much of anything aside from the basics. I used to think I NEEDED to go to the gym, or get my nails done, and while I love doing those things I don't NEED to.
The things that should stay the same as a society: Curbside pickup everywhere can stay! Teledoc appts for really ridiculous things can stay. Any more??
Time outdoors: We have spent way more time outdoors as a family. Walks, playing in the backyard, going to the fields at the park and running around. I cherish our time outdoors as a family. I mean now it's 100 degrees every day so it's getting tougher but still fun!
Realizing I am capable of more than I thought: Andrew and I both working from home was really hard at first. Plus both kids and Liam not having school and having zero help. We have definitely gotten in the groove of things and I realize I am way more capable as a parent than I realized.
What upsides have you noticed for yourself?

I have teamed up with an amazing group of bloggers to give YOU a chance to win:
one of two $500 Nordstrom Gift Cards to shop the Anniversary sale!
Simply enter below by completing the rafflecopter. You'll receive one entry per completion. This giveaway is open to the U.S. and Canada only and runs until 8/2. Winner will be announced here. Good Luck!
Void where prohibited. By entering the giveaway you acknowledge that you are agreeing to complete each task, which involves following, liking and subscribing to newsletter's.