Ahhh productivity. Who doesn't love a good productive morning. I sure do! Seriously nothing better than knowing you've been super productive. So today I am sharing my secrets and things to do every morning for a productive day!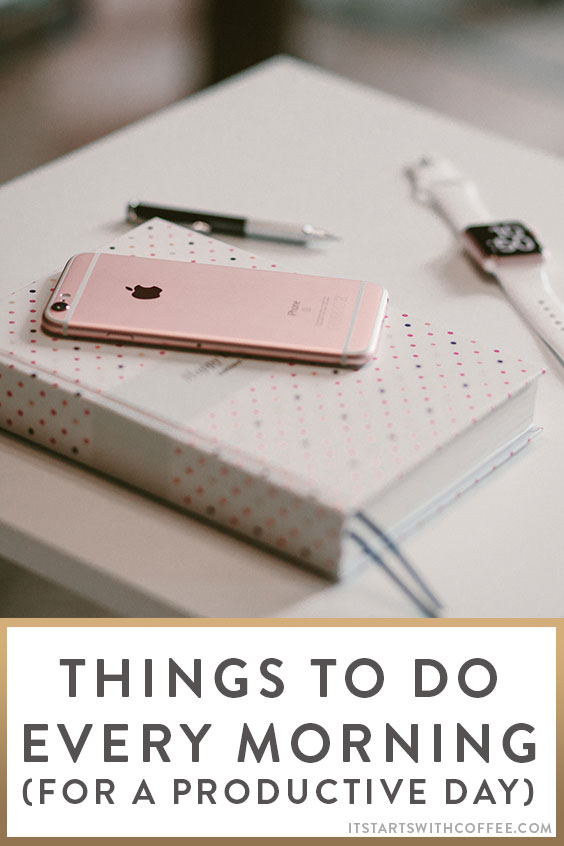 Things To Do Every Morning For A Productive Day
Wake Up Early: To me, waking up early no matter how tired I am always means productivity! Pre baby I would wake up when Andrew's alarm went off at 5:30 even though I did not need to be up that early. I always found that the earlier I got up the more productive I am. I am not a night person so if you are someone who is more productive at night, maybe sleep in a bit 🙂
Have A List: I do not think I could function daily without a to-do list. I am a little absent minded these days, but in general if it's on a list for me it gets done. If it's not I tend to forget about it. I have a weekly to do list and then daily ones as well. Highly suggest it!
Sweat A Little: If I get in a morning workout I have SO MUCH ENERGY all day! Even if it's 30 minutes of cardio or a barre class I feel so much better and more productive if I get in a morning workout. I am not someone who can workout in the evenings so this is the only way for me.
Turn On A Podcast: To me very little makes me feel more productive than listening to a podcast. I have some of my favorite blogging podcast here and I try to listen to an episode of one each morning. Try it!
Tackle The Hardest Thing First: If I have something tedious or just plain hard on my to-do list I tackle that FIRST. Once that's out of the way, everything else just seems a lot easier to handle. Do you ever feel that way? Once that hard activity is out of the way I also feel really accomplished which in turn motivates me to get even more done!
Reflect: If you have the time, try to reflect for 5-10 minutes on the day before, the day ahead, and what you want to do different or better. This always makes me feel great and puts me in a very positive mood.
What are your suggestions for things to do every morning for a productive day? I would love to know!