Thank you to Energy Ogre for partnering on today's post. This is a company we have used for nearly three years. 
I think the thing people never talk about when it comes to buying a house is all the costs you DON'T expect! A lot of time when you live in an apartment you have bills included and you don't even think about things like your energy bill. Cut to April of 2015 (almost 4 years ago) when we bought our house. It was a LOT more space at two stories and 4 bedrooms and I never really thought about what that would mean for our energy bill. I know so many of us look for ways to cut costs, be it cord cutting with cable or finding ways to save on energy. Today I want to share with you 4 ways to save money on your electricity bill- you will thank me trust me!
4 Ways To Save Money On Your Electricity Bill
Use motion sensing lights: We've had motion sensing lights in our garage for a long time, but recently Andrew put one in our laundry room. As soon as you walk in the lights turn on and once it's not detecting any motion it turns off. This is great for a few reasons. One of them being if you are carrying a lot of stuff you don't need to worry about fiddling with the light switch. But also you don't have to worry about forgetting to turn off lights. I tell Andrew all the time I wish we had them in every room. I am HORRIBLE about turning lights off.
Make sure things are turned off/unplugged you don't use often: I guarantee that you don't use all those kitchen accessories all the time: blender, toaster, stand mixer, etc. Probably not even a TV in your guest room or that stereo that's been sitting there since 2005 (ok that's more my dad). It is SOOOO helpful to your energy bill to keep things unplugged you don't use daily.
Use Energy Ogre: Did you know an average of 90% of Texas overpay for energy?  In June of 2016 Andrew discovered Energy Ogre. In the nearly 3 years we have used Energy Ogre we have probably saved almost $100 a month! In 3 years that's $3,600 just from using Energy Ogre. The cost is $10 a month for the service, but look what you're saving. Electric bills can be really hard to understand. Depending on how much energy you use you are getting charged different amounts. Why not let someone else deal with that for you! Energy Ogre's technology actively monitors thousands of offers on the market and finds the one that best meets your household's needs by reading the fine print and identifying any hidden charges. If you are currently enrolled in a contract with a service provider, Energy Ogre will check your usage for the past 12 months, run an in-depth analysis of your options and forecast how much electricity you would use over the next year. They factor in the plan you're enrolled in, potential termination fees and discuss your options with you – whether it's smarter to stay or switch. To see how much you'd save go here! You'll only be enrolled in a plan with the best renewal cycle and maximum savings. Once you become a member, Energy Ogre keeps watching for better, cheaper options while actively maintaining your account with your retail energy provider. When it makes financial sense to switch providers, Energy Ogre will let you know, and factor in any potential cancellation fees.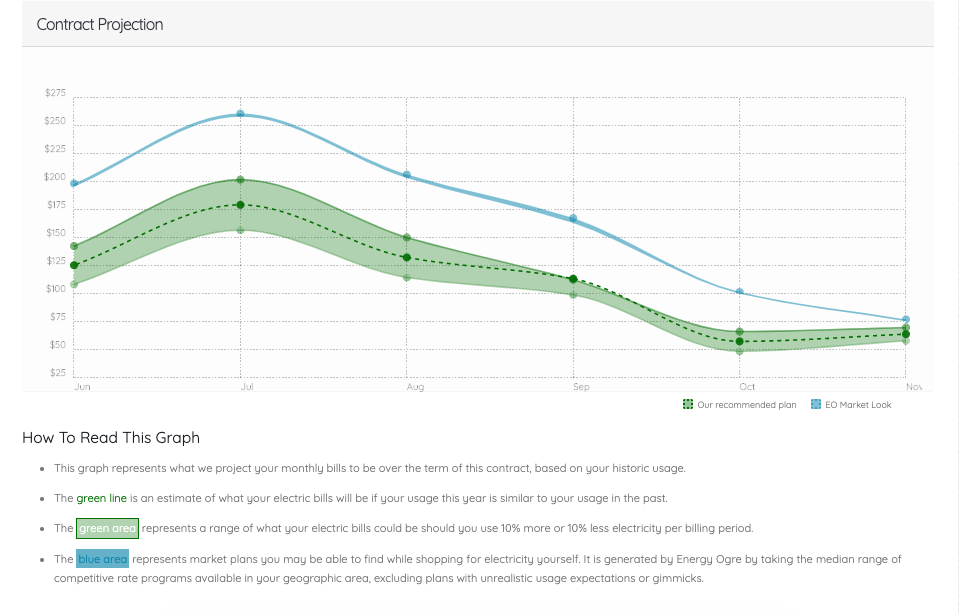 These were our projected savings the first 6 months!
You know how much fun dealing with customer service is right? Well, If you have any issues with your energy provider, Energy Ogre takes over and resolves them for you. YES PLEASE! Energy Ogre continuously monitors your electricity contracts, so you never miss a renewal deadline, AND get the best deals available. They analyze your contract during its term and make you aware of smart savings decisions like changing providers and factoring in termination fees.  You'll receive your bills from the energy providers that Energy Ogre chooses for you. The Energy Ogre Satisfaction Guarantee means that they will do everything in their power to keep you happy with your service plan up to and including a refund of your membership fee should you decide to leave Energy Ogre. More about the Satisfaction Guarantee.
As someone who has used Energy Ogre for three years I can tell you we've always been satisfied, we've never had issues, and we've saved a TON of money that we are able to use for things like vacations, savings, Liam's preschool tuition, and more!
Set Nest timers: We have a Nest upstairs and downstairs and when we travel we always use nest timers to make sure we aren't using a crazy amount of energy. We also have them on certain timers for certain points in the day and seasons. In this in between time where in Texas it could go from 20-80 in the span of four days (yes that happened) we do heat/cool. This saves A TON of money on your energy bill because your house isn't working extra hard when it doesn't need to.
We are always looking for ways to save money because there are way more fun things to spend your money on than your electric bill! While I was paid for this post know that this is a company we've trusted and used for years before.