Working from home can be a challenge. Having good time management skills is one of the main things you need to make the most out of everyday. I have been working from home for over four years. I have worked for myself that entire time. My entire monthly income is on me. How I manage my time and spend each day is also on me. No one is telling me where to go, what to do, and when to turn in an assignment. I am here to give you tips to time manage your life like a pro so that you can make the most out of each day.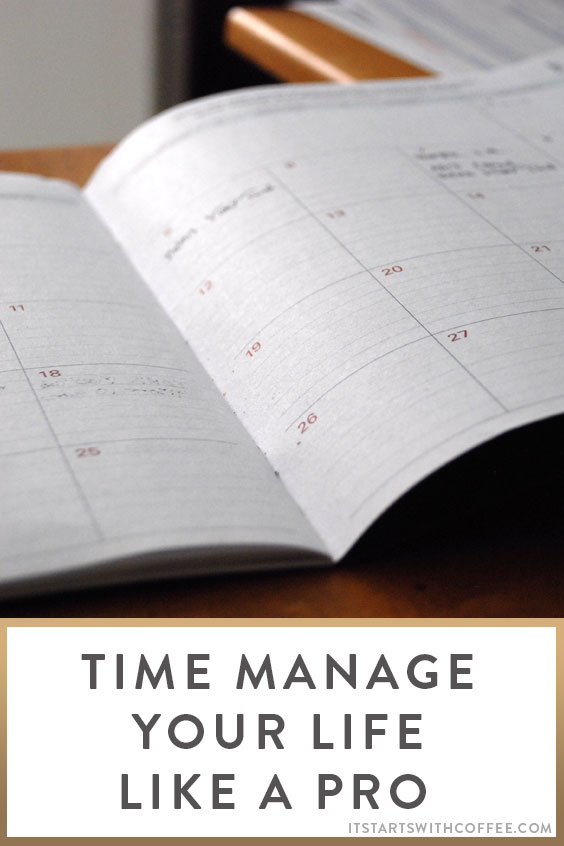 Time Manage Your Life Like A Pro
Tip 1 – Plan Your Day
I make to do lists every night before bed for the next day. I even have "go to the gym" on it so that I know I need to get it done. Pretty much anything big or small that needs to get done goes on that list. I look at it several times throughout the day and sometimes even add to it if I need to. I find that having this kind of list makes me so much more productive and small things don't get forgotten. Plus I really get a great feeling of accomplishment being able to mark items complete.
Tip 2 – Eliminate Distractions
This is my biggest challenge. I am not distracted by TV. I tend to have the TV on in the background while I work a lot, but I almost always have something on that I have seen. Usually a TV show I love like Friends, HIMYM, The OC, etc. I also work well listening to Podcasts. For me, music distracts me. I can't work with music on. I also can't work well around other people now that I am so used to working from home. The times that I go work in a Starbucks, I find I get so much less done.
Tip 3 – Reward Yourself
If I have an especially busy day or week, I try to remember to reward myself. That might mean going to get a Peach Green Tea Lemonade from Starbucks mid day if I get a certain amount done, or it might mean taking a half day on Friday and going to see a movie by myself (my fav). Or even something like going to get myself lunch at Whole Foods. Rewards can also be something like a bubble bath at the end of the day. Just something you can look forward to.
Tip 4 – Move Around
I use a Fitbit and it reminds me to get moving which is great. If you don't have something like that, try to get up once an hour (at home or at an office) and go for a 5-10 minute walk or go grab yourself a coffee. Something to get you up and active. It will revitalize your day and make you so much more productive so that you time manage your life like a pro. Trust me!
Tip 5 – Clean Up When You're Done
Any kind of work space at home or at an office can get messy. I know for me I work in our living room a lot of days and it can really get junked up by the end of the day. The best thing I do is put everything back in it's place when I am done. That way you feel good when you get back to work the next day. Things are organized and in their place.
All of these things together add up to being able to time manage your life like a pro and become a more productive and organized person. No more scrambling, forgetting, and feeling out of sorts.
I would love to know what tips you use to time manage your life like a pro? Let me know in the comments!
Also, I have a fun giveaway for you! I've teamed up with a few other bloggers to bring you such fun stuff!
Here's what the Prize Package includes:
1 Jaclyn Hill x Becca Champagne Glow Face Palette (this is LIMITED EDITION and pretty much sold out!)
1 GAIAM foldable Yoga Matt (retail $25)
1 Matrix Color Obsessed Miracle Treat 12
1 L'Oreal Paris TXT IT tousle waves spray
1 Royal Apothic hand lotion in Field Poppy
6 e.l.f cosmetics products curated for summertime
1 essence cosmetics blush in BabyDoll
1 tan crossbody bag with tassel details, filled with beauty samples from Sephora & Ulta
1 "Don't Quit your DayDream" Mug