It can be really easy for couples to forget to make time for each other. With kids, a pandemic, work, etc things just get busy and can get complacent. I have found a few of the best ways to make time for your spouse that I think are truly helpful and doable.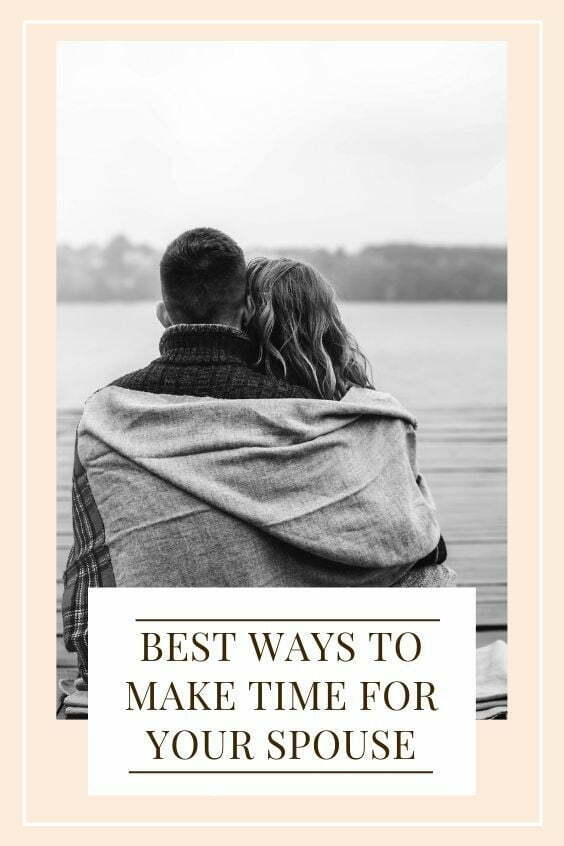 Best Ways To Make Time For Your Spouse
Schedule it in: Some people need to schedule their workouts in so there is nothing wrong with scheduling in date nights or time together. We make it a point to put date nights or potential date nights on the calendar. We are far less likely to skip them or cancel them. We haven't had as many out-of-the-house dates lately but we do try to have at-home dates.
Unplug: When you are spending time together, put the phones away. This is something we are constantly working on being better at. Social media will always be there.
Do a project: Maybe you need to organize a closet or paint a bedroom or something else around the house. Doing a project together is a great way to spend time as a couple. We actually had my mom come over recently and watch the kids so we could organize our office and honestly it was kind of fun!
Take advantage of days off: Andrew gets bank holidays off work so we try to take advantage of those since usually, Liam is in school. Next year Charlotte will be in school those days so hopefully we can have time for just us!
Make vacations a priority: We prioritize one kid-free vacation together a year. We've gone to Florida twice, and Laguna Niguel, we've also done nights away at a hotel.  We think it's important for our kids to see us spending time together and putting our marriage first.
At-home date nights: When you have kids, an at-home date night is sometimes the best you can do. While we make going out on dates a priority it just doesn't always work. We've had to cancel dates because Liam is sick or a babysitter wasn't available. So cooking a meal together, or even picking up take out is fun. We have done puzzles, watched movies, played games, or just talked.
These are just a few instances of the best ways to make time for your spouse. I would love to know if you have anything you'd add?
This post was originally posted in 2019 and has been updated for 2021.