Today marks 10 years since I started this blog! That's insane to me! 10 years ago I sat down and wrote a REALLY BAD POST and thought "maybe I will keep this up for a week or two." Cut to a decade later and nearly 3,000 posts later and here I am. In honor of 10 years of blogging I am sharing 10 things I've learned, 10 posts I loved most, and a giveaway with 10 winners (at the bottom). Thank you all so much for reading whether it's been 10 days or 10 years. I appreciate it so much!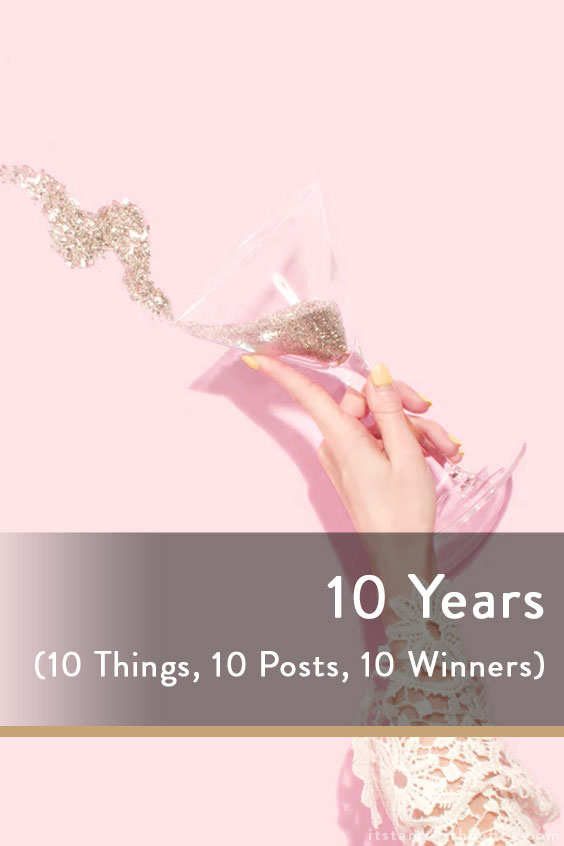 10 Things I've Learned…
You will meet people you least expect when you least expect it: I would not have met my husband if not for blogging. A friend I met through blogging introduced us (long story).
"If it's not a hell yeah it's a no" If you aren't excited about something don't waste your time.
It's OK to keep parts of your life just for you: I do not share my children's faces, and rarely my husband. I think it's important to keep parts of our life private.
You don't have to be everyone's cup of tea: Not everyone is going to like you and it's OK!
Sometimes your hobbies can turn into careers: This was a hobby when I started. A way for me to kill time between grad school classes, and on weekends. It's now my full-time job.
Trust your instincts about people, partnerships, and situations: If your gut tells you something is wrong, listen!
It costs $0 to be nice and help people: If someone reaches out to ask a question- answer it. Why not? How is it hurting you to help someone else?
NEVER burn a bridge: When it comes to brands people move around ALL THE TIME. Don't burn bridges.
No one is going to work for you as hard as you will: I have never hired a virtual assistant or even a paid assistant. No one is going to work for me as hard as I will. I know people have different views on this but when it comes to my content it needs to be all me.
Outsource what you need to: But I do outsource. I have a photographer, my husband edits, and does graphics for me and all the back end work.
10 Posts I loved….Most…
Giveaway!!! So to celebrate 10 years I am giving 10 of you the chance to win! Each winner will get a $20 gift card to either Starbucks, Sephora, or Amazon! Enter below! Good Luck! Winners will be announced in one week! *Please check back to see if you've won and if you have please email me!